Write A Review and Get KeepMusic Free License
KeepMusic is committed to developing a professional and powerful YouTube Music converter, providing users with the best streaming service solutions. KeepMusic can help users who from all over the world download their favorite music, podcasts, albums, playlists, etc. from YouTube Music to their local computers, and transfer them to different mobile devices to get the best listening experience.
Are you a satisfied user of KeepMusic YouTube Music Converter? Do you want to share your experience with others and help users around the world better understand KeepMusic and help KeepMusic build an online presence? If yes, we invite you to post your honest opinion or feelings about KeepMusic YouTube Music converter and win a free license for at least 10 days. .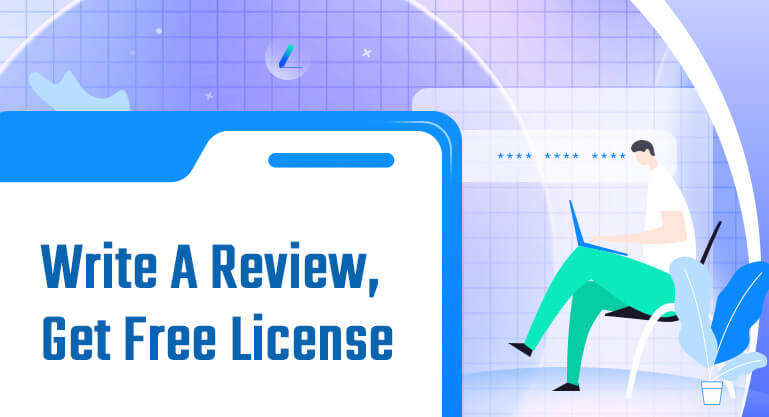 All you need now is to share your positive feedback on our website, social media, or review platforms. Following verification, we are happy to offer you a complimentary 10-30 day trial of our product to continue experiencing its benefits.
3 Ways to Win KeepMusic Free License
Method 1. Share your experience on Trustpilot
If you have used our products and got a good experience, you are welcome to share your experience on Trustpilot so that KeepMusic can reach more users who can benefit from it.
1. Go to Trustpilot and sign up.
2. Rate us and share your experience with KeepMusic.
• The product review should be more than 200 words.
• All reviews need to be based on your most authentic experience. We do not accept content directly copy-pasted from the web.
Method 2. Write a review and share to Facebook
If you are an active Facebook member with more than 500 fans, you can win a free license by sharing your experience on the social network.
• The product review should be more than 200 words.
• The review should have at least one link for KeepMusic product page/homepage.
• The review should base on your real product experience. Any contents copied from the Internet are not acceptable.
Method 3. Make a 90-second or longer video and publish it on YouTube
If you are good at making videos or being a YouTube blogger, we welcome you to get a free license by recording tutorial videos or product feature reviews for KeepMusic.
• Show product page/KeepMusic homepage in the video.
• The video should be a how-to guide or product function review, and the video should be more than 90 seconds.
• Include at least one link from keepmusic.io in the description, such as the homepage, the download center, or the product page, etc.
4 EASY STEPS TO WIN FREE LICENSE
Step 1
Launch KeepMusic on your computer
Go to Download Center with the browser to install the KeepMusic YouTube Music Converter, then Launch it on your computer.
Step 2
Write review or make video
After testing out the program, you are able to write a review, publish a tutorial or make a YouTube video to share your experience.
Step 3
Submit the review or Video for approval.
Please email support@keepmusic.io with the title "Review for KeepMusic Free License" and include a link to your review.
Step 4
Get a free KeepMusic license
It takes 3-5 working days for approval usually. Once your review, video is approved for publication, we will email you a free license immediately.
Should you have any questions, please contact us at support@keepmusic.io via email.