Home > Guide > YouTube Music VS Deezer
YouTube Music VS Deezer
With the development of the streaming music service market, Amazon Music, Spotify, and Apple Music are no longer our only options. More music services are appearing in our lives, bringing us more novel music service experiences, such as YouTube Music and Deezer. But if we need to choose between YouTube Music and Deezer, which one will be the better choice? YouTube Music or Deezer?
If you are also at the fork in the road between YouTube Music and Deezer and don't know where to go, then please read this article. Here, we will analyze who is more suitable for you from the perspective of music quality, music library, plan, and price.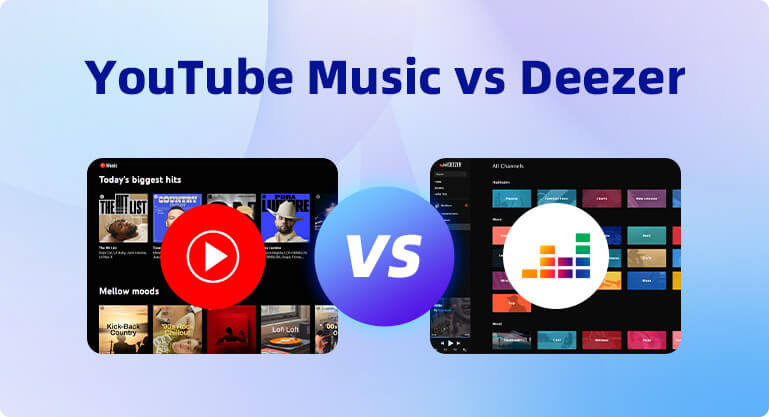 Part 1: YouTube Music VS Deezer: Music Library
Both YouTube Music and Deezer provide users with a rich collection of songs, albums, and artists.
Youtube Music currently has more than 100 million tracks for users to listen to, and due to the superior support of the YouTube platform, YouTube Music has the function of synchronously downloading YouTube Music videos. As long as YouTube Music detects that the song you downloaded contains a music video, you can download the music video along with it. This is undoubtedly the best choice for users who like to listen to music while watching videos.
Deezer currently has over 90 million tracks. For YouTube Music, Deezer doesn't have an advantage in terms of the richness of the music library. And it falls short in offering music videos to its users, an area where YouTube Music shines.
Part 2: YouTube Music VS Deezer: Music Discovery
Music streamers rely on a good discovery feature to find new music and artists. For some, it can be a deal-breaker when an app doesn't quite deliver in this regard. The good news is that both YouTube Music and Deezer have pretty good discovery features.
YouTube Music provides users with a variety of personalized playlist recommendations, where you can find music that matches your mood and situation. My Mix is updated based on your listening history and your favorite songs. You can find songs of the same genre as your favorite songs in My Mix. The songs recommended by My Supermix will be more diversified than My Mix, with various music styles and genres. In addition, the New Release Mix in YouTube Music will show you some of the most popular songs. And Discovery Mix and introduce you to some music styles or artists that you may not have been involved in before
Deezer will give you suggestions based on people you like with similar tastes. Among other things, Deezer uses your preferences, listening history, and general activity on the app to target your music preferences. Similarly, like YouTube Music, Deezer will also have Radar weekly and Fresh Features to show you more styles of music and more artists. Let you continue to have the opportunity to try and enjoy different styles of music tracks, and open the door to a new world.
Part 3: YouTube Music VS Deezer: Audio Quality
In terms of sound quality, Deezer has an excellent advantage over YouTube Music. Deezer provides users with 320Kbps sound quality in applications and web players. But CD quality sound in Hi-Fi FLAC mode, which is exciting for most music lovers. YouTube Music offers 4 settings of audio quality – Low (48kbps), Normal (128kbps), High (256kbps), Always High (256kbps).
| | | |
| --- | --- | --- |
| Audio Quality Setting | YouTube Music | Deezer |
| Automatic | Depends on connection | / |
| Low / Basic | 48kbps | 64kbps |
| Normal / Standard | 128kbps | 128kbps |
| High / High Quality | 256kbps | 320kbps |
| Very High / Always High | 256kbps | / |
| HiFi | / | 1141kbps |
Part 4: YouTube Music VS Deezer: Unique Features
Both YouTube Music and Deezer have some unique features that make them stand out in the market for streaming music services.
YouTube Music has covers and remixes of songs that aren't available on other platforms. This is because YouTube Music can upload this content, but other services do not.
Deezer allows you to filter your recommendations by "Suggested Tracks", "Favorite Tracks" and "Top Tracks". Most of the suggestions are spot-on and perfect for those who like to create themed playlists. Meanwhile, Deezer has 360 Reality Audio, which is a spatial audio technology that provides lifelike 360-degree audio, enhancing HiFi audio.
Part 5: YouTube Music VS Deezer: Pricing & Plans
YouTube Music and Deezer offer a variety of pricing and plans. But to sum up, Deezer is slightly more expensive.
And both YouTube Music and Deezer offer users individual and family plans. And the family plan can be used by up to 6 people. In addition, YouTube Music offers a student plan.
| | | |
| --- | --- | --- |
| Plans | YouTube Music | Deezer |
| Free | Yes | Yes |
| Individual Plan | $9.99/month | $10.99/month |
| Family Plan | $14.99/month | $17.99/month |
| Student Plan | $4.99/month | No separate plan, just a 50% discount on Deezer Premium. |
If you don't want to spend a lot of money on a streaming music service, then YouTube Music is the right choice. Or you sign up for YouTube Premium ($12.99/month), which lets you watch ad-free YouTube videos while also giving you access to YouTube Music. YouTube Premium has no ads. You can download it and play it in the background. If you're only going to spend $12.99 per month to subscribe to your streaming music service, YouTube Premium is definitely worth the money.
Part 6: YouTube Music VS Deezer: Which Should You Go For?
YouTube Music and Deezer are both popular streaming music services, which one is better? YouTube Musiuc or Deezer Music?
1. If you have strict requirements for sound quality, then Deezer will be your best choice. Because Deezer can provide you with Hi-Fi sound quality, and in FLAC format, it can reach CD quality.
2. If you like all kinds of music and videos, YouTube Music is the better choice for you. Because YouTube is a platform that combines audio and video.
3. If you don't plan on spending too much money on streaming music services, YouTube Music is the better option for you. Because the price of YouTube Music is slightly lower than that of Deezer. At the same time, you can also choose the more cost-effective YouTube Premium plan.
4. If you only want to sign up for a free music account, YouTube Music would be a better choice for you. Because YouTube Music has fewer restrictions.
Extra Tip: How to Export YouTube Music & Deezer Playlists as MP3 Files?
Maybe you are looking for a way to download YouTube Music & Deezer to MP3 files. These easy-to-use tools recommended below can help. Whether you are a free or Premium user, you can easily download YouTube Music & Deezer in MP3 format and transfer it to different devices for playback.