Home > Guide > YouTube Music Not Playing
How to Fix YouTube Music Not Playing: Explanation of Error Causes and Countermeasures!
If you are a regular YouTube user, you must be familiar with YouTube Music. YouTube Music allows you to enjoy songs accompanied by music videos. As with free YouTube Music and paid YouTube Music Premium, playback may suddenly stop or stop on its own.
If you just want to enjoy music, but you're in trouble because you can't listen to it. In this article, we will explain the reasons why YouTube Music songs cannot be played and how to deal with the error. I would appreciate it if you could refer to the method in the article and solve it. Even if you can't solve it, you can also download and listen to YouTube Music songs on your computer. Please read to the end.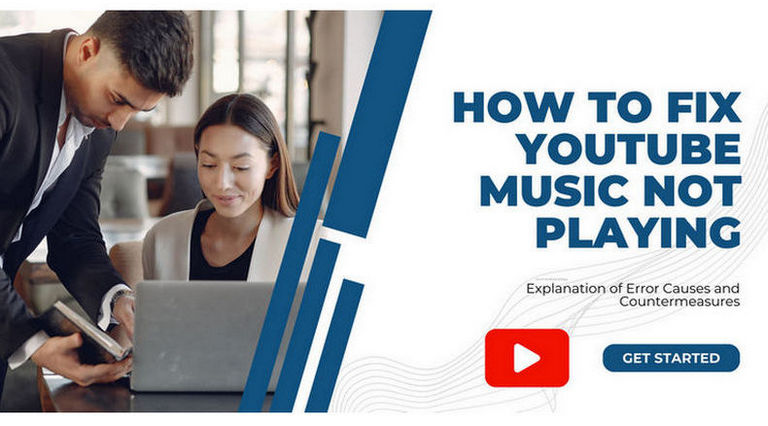 When you listen to a song on YouTube Music, you may often get the message "The song is no longer available on YouTube Music" and you can't play it. In this case, The song on the platform may be taken down by the creators due to copyright disputes or other factors. While these songs will still appear in your library, they are unplayable.
There is no workaround. If it's the particular song that you absolutely cannot do without, consider switching to Spotify, Apple Music, or Amazon Music.
If you join the YouTube Music Premium membership, you can use the background playback function, but it seems that the music sometimes stops on its own right after background playback on YouTube Music.
The number of cases on PC and Android is extremely low, but it seems to be an unresolved issue that continues to be reported by iPhone users from iOS 15 onwards.
It can't be fundamentally solved for a while, but if you press the play button again, you may be able to fix it. If you update the iPhone itself, it may be solved, but I think you should be careful about updating older models.
Instead, there is a way to use "Download and listen to YouTube Music songs on your computer" With this method, you won't have to worry about background playback stopping on its own. And free members will be able to play in the background.
YouTube Music has automatically played recommended music. If this function is turned on, even if the currently playing song and the list are finished playing, similar songs will be played automatically. In such a case, it is easy for continuous playback to stop on its own. There are also cases where the repeat of the song has stopped.
If continuous playback of YouTube Music stops on its own, please check that you are normally connected to the Internet, such as via Wi-Fi, and try updating the YouTube Music app. Also, make sure you are pressing the correct button for repeat playback. If you still can't solve it, we recommend "download and play".
It's a very common problem. If you experience playback problems, first make sure you are connected to the internet. You can solve the problem by switching the internet environment, changing the location (in an elevator, in a tunnel, etc.), and changing from mobile data communication to Wi-Fi.
When switching from Wi-Fi to mobile data communication, playback will not be possible if the communication volume is exhausted. Always make sure that the network environment is stable when using services that require communication.
Problems such as being unable to play songs may occur when access is concentrated or when there is a problem with the system. If you're having trouble with the YouTube Music app, try the methods below.
① Log out and log in again.
② Clear the cache.
For Android: Select Settings on the main screen, select Apps: YouTube Music, then go to Storage and tap the Clear Cache option.
For iPhone: Delete and reinstall the app.
③ Disable battery optimization.
If you enable this feature, your device will limit YouTube Music's access to your phone's battery, although it will extend battery life. Go to your phone's battery management section, select battery optimization, and turn off the YouTube Music feature. Alternatively, you can enable performance mode in the battery settings.
④ Uninstall YouTube Music and install it again.
Reinstalling can fix most problems.
There may be a problem on the terminal side, such as a smartphone or PC. Possible causes are mainly as follows:
① The terminal is broken.
② RAM capacity is insufficient.
③ The movement of PCs and smartphones is getting heavy.
In the above situation, there are only three ways to completely heal. The first is to increase the RAM capacity; the second is to repair the device; and the third is to initialize the computer or device. Before using these methods, be sure to back up your important data to a USB or external hard disk.
And temporarily, if you can play on your PC but not on your smartphone, you can use the method described in the article, "Download and listen to YouTube Music songs on your computer" to transfer YouTube Music data to your smartphone and listen to it.
Even if you are a premium member, you can't download YouTube Music songs directly to your PC, so here we use KeepMusic YouTube Music Converter to download them.
KeepMusic YouTube Music Converter is a specialized tool for downloading YouTube Music. You can download the songs and playlists you want to listen to to your computer without any loss. You can save your favorite Christmas songs to popular audio formats such as MP3, AAC, FLAC, ALAC, WAV, AIFF, etc. while keeping the song title, album, artist, genre, or artwork forever.
Step 1 Install and run the KeepMusic YouTube Music Converter. Click on SIGN IN to login your YouTube Music Free or Premium account thus accessing to the YouTube Music library.
Note: KeepMusic YouTube Music Converter won't collect your account information but it is to extract the music source from YouTube Music.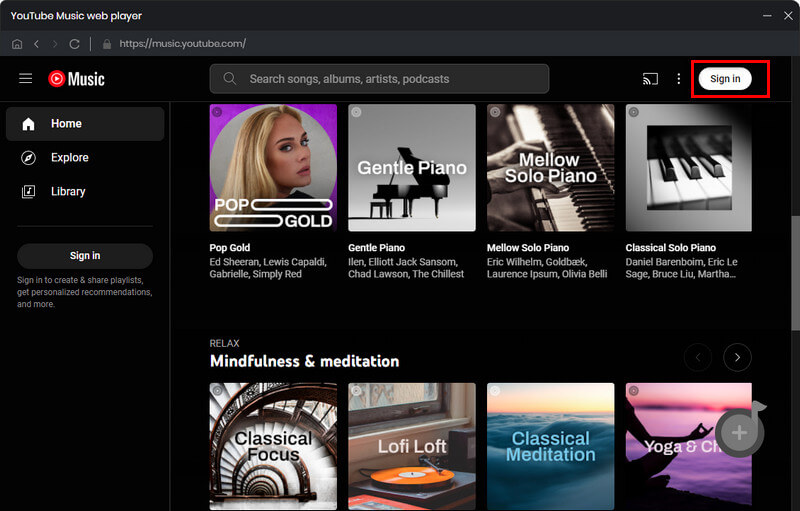 Step 2 Before downloading the song, you need to click the Settings to customize the output settings: Output Format, Bit Rate, Sample Rate, Output Path, and other parameters. The sound quality will be output in accordance with the level as you stream on the YouTube Music web player. In addition, KeepMusic YouTube Converter allows you to customize the name of the output files and save the output audio files in the same order as the original playlist.
Output Format:AUTO, MP3, AAC, FLAC, WAV, AIFF, ALAC
Bit Rate: 128kbps, 192kbps, 256kbps, 320bps
Sample Rate: 44.1kHz, 48kHz, 96kHz, 192 kHz
Output Folder: C:\Users\User Name\Music\My YouTube Music (This can be modified)
Output File Name: Track Nuber/Title/Artist/Album/Playlist Index/Year
Output Organized: Playlist, Artist, Album, Artist/Album, Album/Artist, Playlist/Album, Playlist/Artist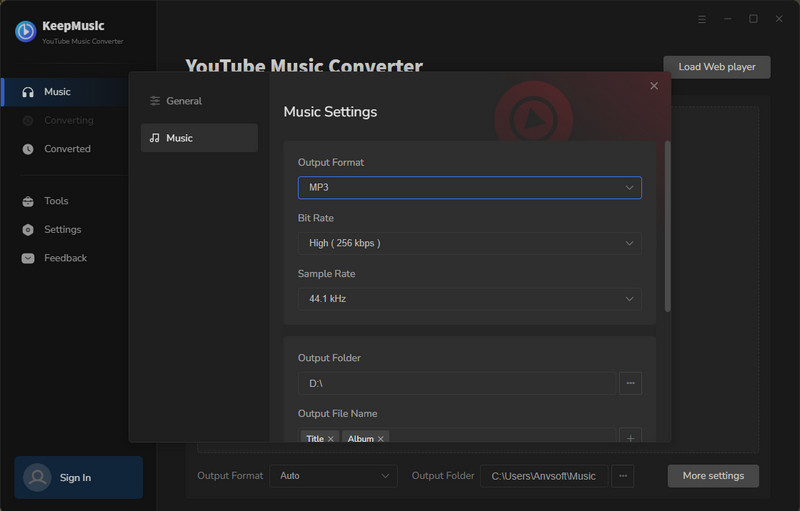 Step 3 Open a playlist, artist, album or podcast, then click on the Add

button and select the songs that you'd like to convert. The playlist will be shown on the conversion panel. You then selectively or choose the songs in batch. You can also choose the whole playlist to convert.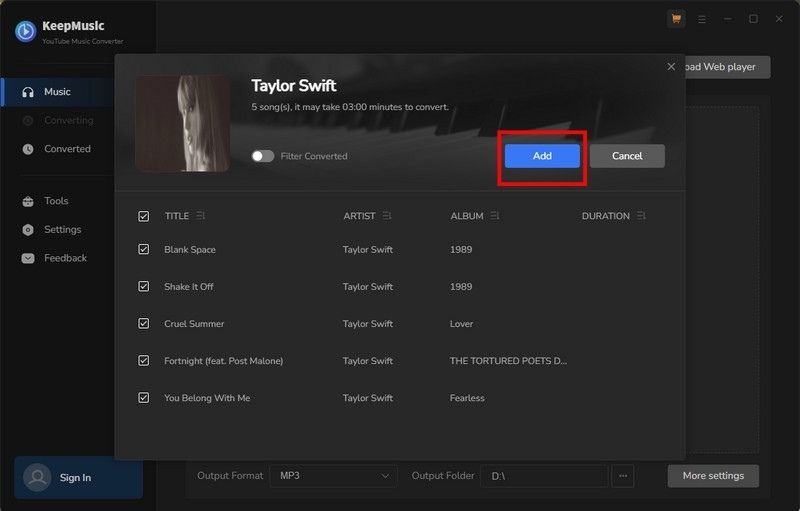 Step 4 Click on the Convert button to start downloading songs.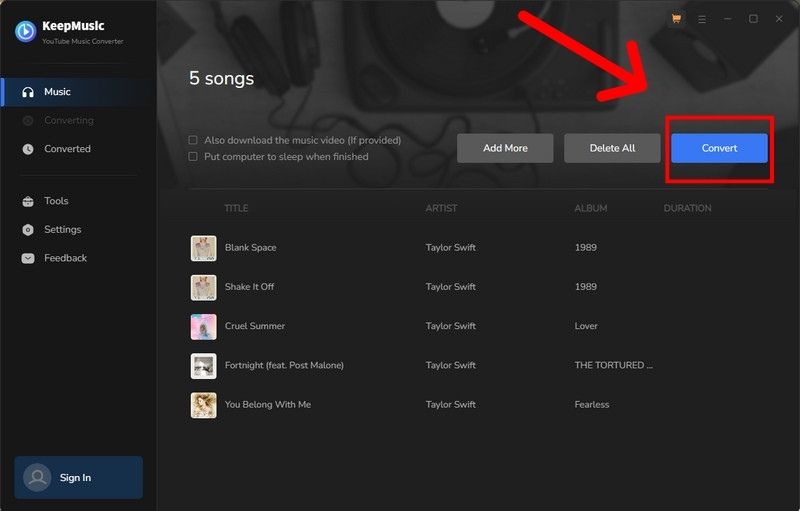 Step 5 After the conversion is completed, you can click on Converted to check the downloaded songs. Or by clicking the folder icon after the converted song, you can directly reach out to the local drive that saved all the converted YouTube Music.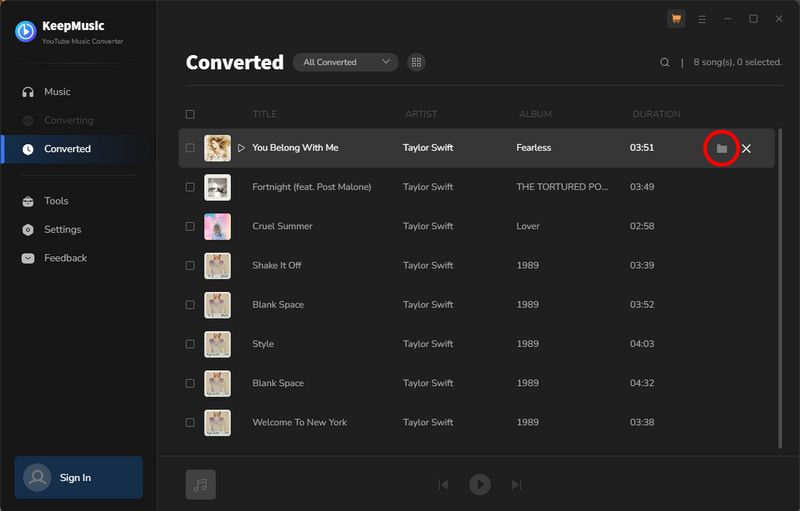 KeepMusic can be downloaded for free. The free trial enables users to convert the first minute for sample testing. You can then decide whether you want to buy a license to unlock the full version or not.
Summary
The above is what to do when YouTube Music songs cannot be played. If you operate according to the method provided in the text, most of the problems can be fixed. If you can't fix it, check if it's a hardware problem on your smartphone or PC itself or on SNS, and check if it's a problem with YouTube Music and deal with it. If you want to download YouTube Music songs to play on professional music players, try KeepMusic YouTube Music Converter.