Home > Guide > YouTube Music Keeps Stuttering
How to Fix YouTube Music Keeps Stuttering
"YouTube Music keeps stuttering! This problem just came out of the blue and it's been happening for over a week now. Yes I've done all the troubleshooting steps. I've googled this problem countless times, and tried all methods that people have suggested and nothing has worked. Anything else I can do? Have uninstalled and installed countless times and nothing."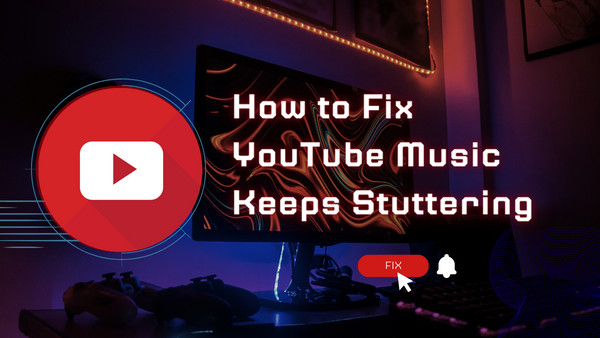 Are you struggling with stuttering on YouTube Music as well? We've got you the solution. This issue is incredibly frustrating, and it seems to have no clear cause or pattern. Many users think the problem stems from their Bluetooth, but it persists even when the Bluetooth is disconnected.
There are countless suggestions on the internet for fixing it, from checking the internet, and relaunching the app to clearing the cache and disabling the phone's Equalizer, but plenty of them have tried the solutions all to no avail.
What can we do to ensure smooth listening? Fear not. This article will give you the ultimate solution to enjoy uninterrupted YouTube Music - 100% working.
The method to be introduced in this article is to export YouTube Music playlists to your local computer as .mp3 files. Once the playlists are saved on your PC/Mac, you can enjoy them on any media player of your choice or transfer them to your mobile phone or other devices for seamless playback.
Part 1: Get to Know KeepMusic – The Ultimate Tool for YouTube Enthusiasts
If you are into YouTube, KeepMusic is one of the names that you should learn about. It is a boon for YouTubers. No matter whether you are a YouTube video watcher or a YouTube Music subscriber, KeepMusic will bring your audio and video experience to a higher level.
KeepMusic provides two useful tools, one is for YouTube Music and the other is for YouTube videos.
If you are a YouTube Music subscriber, you can use the YouTube Music Converter it provides to export your song list to your computer and store it in common formats like MP3. YouTube Music Converter is shareware. You can download the program for a free trial. If it meets your needs, you can purchase a license with a small fee to unlock the full version.
If you are a YouTube video lover, you can use the YouTube Video Downloader it provides to download YouTube videos to MP4 format or extract music from a YouTube video as .m4a to listen to as audio files. The most worth mentioning is that YouTube Video Downloader is free software, not only easy to use, but also free of charge.
Part 2: Download & Export YouTube Music Playlists to the Local Drive
The problem we need to solve in this article is to fix YouTube Music stuttering issue.
In order to listen to YouTube Music smoothly, what we need to do is to export YouTube Music playlists to the local computer for offline listening at any time.
The tool we are going to use is KeepMusic YouTube Music Converter. It's a safe & clean tool that is always compatible with the latest Windows & Mac systems. Currently, it supports Windows 7, 8, 10, 11 and macOS 10.15-13. As long as your computer system is not outdated, you can use it all the time.
Moreover, it supports 10 times faster conversion speed, enables multiple output formats (MP3/AAC/WAV/FLAC/AIFF/ALAC), preserves original audio quality and complete ID3 tags.
Without further ado, let's learn how to download & export your YouTube Music playlists to the local disk with KeepMusic.
Step 1 Open KeepMusic YouTube Music Converter
Launch KeepMusic YouTube Music Converter, and log in to the pop-up YouTube Web Player with your YouTube Music account.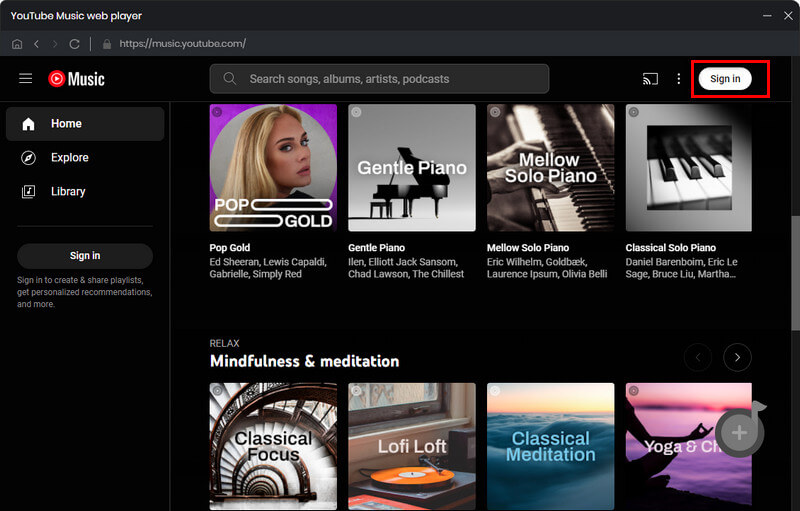 Step 2 Choose Output Format and Customize Output Path
Click the Settings icon in the lower-left section. Here you can choose the output format (MP3/AAC/WAV/FLAC/AIFF/ALAC), specify the output folder and how you'd like to name and sort out the output files, etc.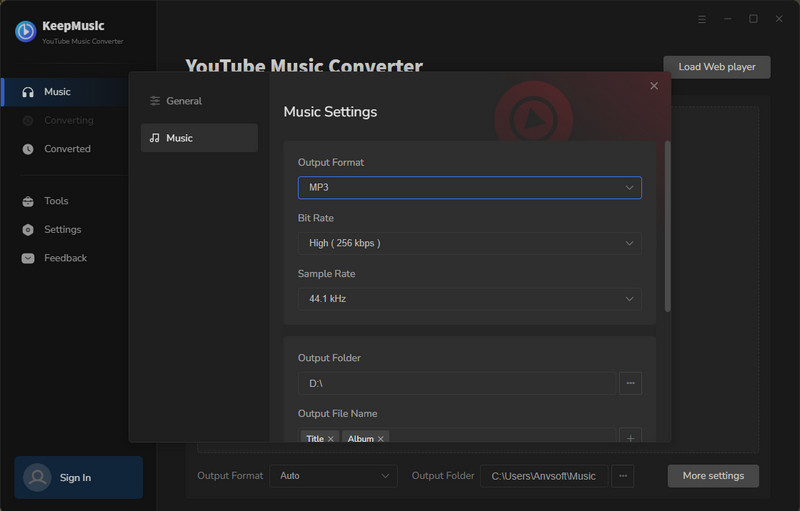 Step 3 Add YouTube Music to KeepMusic
Go to a playlist, and click the floating Add button. You can then select the songs in that playlist for conversion.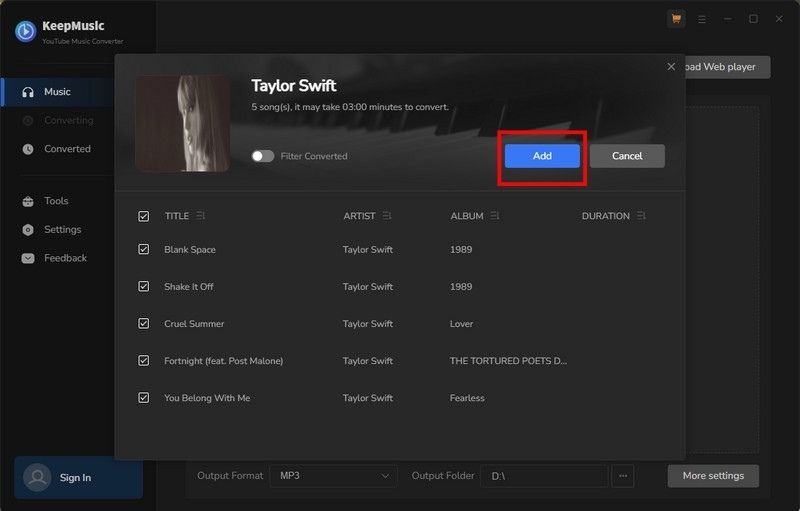 Step 4 Export YouTube Music to the Local Drive
Click the Convert button and KeepMusic will immediately start exporting the YouTube Music to the specified output folder on your local drive. KeepMusic supports 10X faster conversion speed. Just wait for a while till the conversion is done.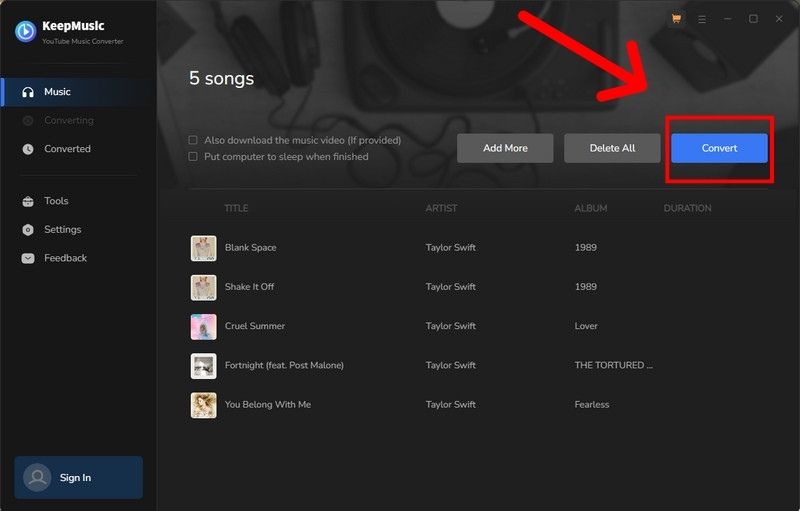 Step 5 Find YouTube Music on Your Computer.
Click the Converted tab in the left section and you'll see all the YouTube Music that have been converted successfully. And by clicking the Folder icon of each song, you'll be directed to the local drive that saved the downloaded files.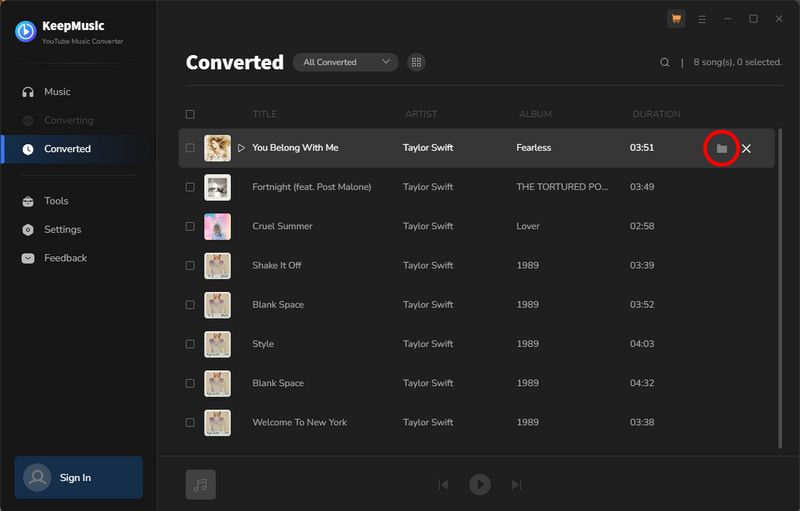 Note: The free trial version of the KeepMusic YouTube Converter enables us to convert the first minute of each song for sample testing. We can unlock the limitation by purchasing the full version.
Part 3: Enjoy YouTube Music Fluently
Now that we have downloaded the YouTube Music playlists songs to the local computer, we can listen to the songs smoothly by the player that comes with the computer or any other player! We can also transfer the downloaded YouTube Music songs to our mobile phones or other devices for normal playback.
Conclusion
YouTube Music is a great source for discovering new music and listening to your favorite tracks. However, the stuttering or buffering issues can be pretty annoying. You no longer have to put up with this problem! KeepMusic provides an excellent solution to all those YouTube Music struggles. It can download & export YouTube Music playlists directly to your local drive and enable you to listen without interruption on any media player of your choice or transfer them to mobile phones or other devices. If you've had enough of stuttering while trying to listen to your favorite tracks on YouTube Music, don't hesitate to turn to KeepMusic to enjoy YouTube Music without any glitches!