Home > Guide > YouTube Premium vs YouTube Music
YouTube Premium vs. YouTube Music: Is YouTube Music Included in the Subscription?
When it comes to exploring the offerings of this popular platform, you may have come across two intriguing services: YouTube Premium and YouTube Music. As you delve deeper into the realm of YouTube subscriptions, one burning question arises: Does YouTube Music come bundled with a YouTube Premium subscription? This article aims to tell you the relationship between these two services, clarifying whether YouTube Music is indeed included in the all-encompassing YouTube Premium subscription. Whether you're a passionate music lover or simply seeking an ad-free, premium YouTube experience, read on to unravel the mysteries and discover which subscription plan aligns with your desires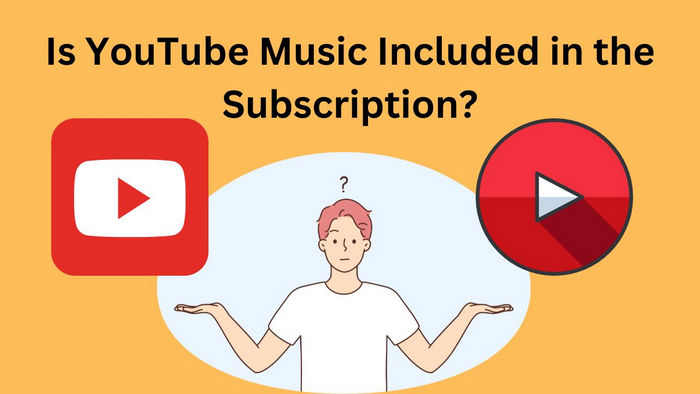 Part 1: Definition of YouTube Premium and YouTube Music
YouTube Premium is a subscription service offered by YouTube that provides users with an enhanced, ad-free experience across the entire platform. Subscribers can enjoy uninterrupted playback of videos, access to exclusive content, offline viewing capabilities, background play (enabling videos to play in the background while using other apps or when the device is locked), and YouTube Originals - original series and movies produced by YouTube.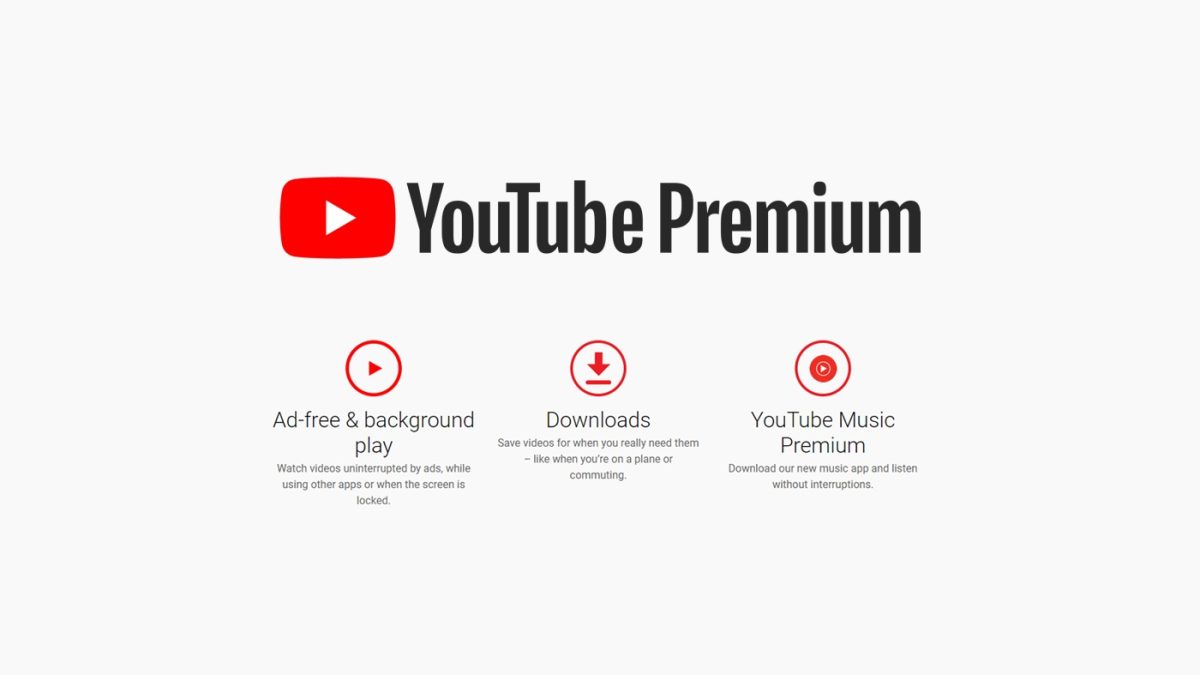 YouTube Music is a standalone music streaming service offered by YouTube. It provides users with a vast library of music tracks and videos, allowing them to discover, stream, and download their favorite songs and albums. YouTube Music offers personalized recommendations based on user preferences, playlists for every mood and occasion, and access to music videos, live performances, remixes, and covers available on YouTube. It is available as a free service with ads, but users can subscribe to YouTube Music Premium to enjoy ad-free listening, background play, and offline playback.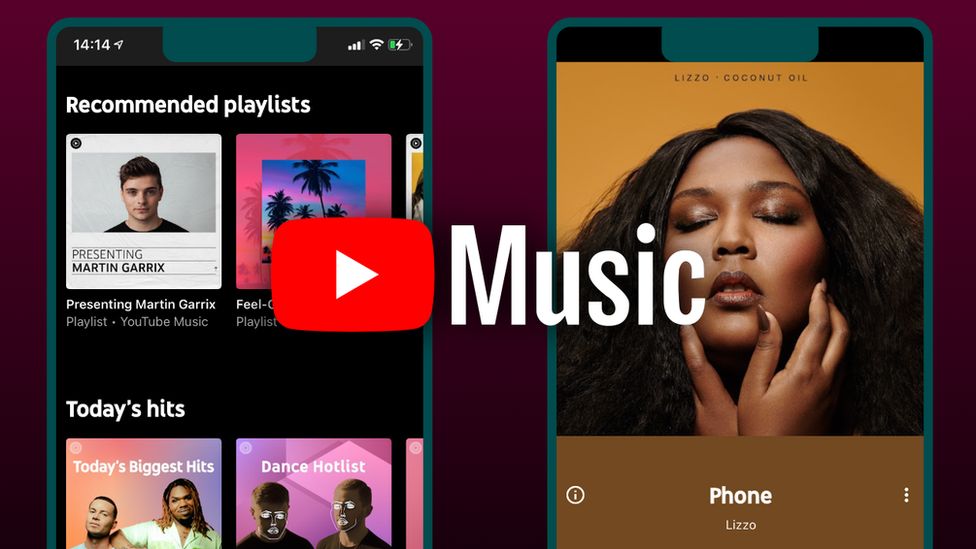 Part 2: YouTube Premium
Ad-Free Experience: With YouTube Premium, you can enjoy an uninterrupted viewing experience across the entire YouTube platform. No more interruptions from ads while watching videos.
Background Play: YouTube Premium allows you to keep playing videos in the background while using other apps or when your device's screen is locked. This means you can listen to music, podcasts, or any other video content on YouTube while multitasking on your device.
Offline Viewing: YouTube Premium enables you to download videos and watch them offline at your convenience, without an internet connection. This is particularly useful when you're traveling or in places with limited or no internet access.
YouTube Originals: Subscribing to YouTube Premium gives you access to YouTube Originals, which are exclusive series, movies, and documentaries produced by YouTube. You can enjoy unique content created by popular YouTube creators and professional filmmakers.
YouTube Music Premium: As part of YouTube Premium, you also get access to YouTube Music Premium. This means you can enjoy an ad-free music streaming experience on YouTube Music, access background play for music videos, and download songs for offline listening.
Premium Access to YouTube Kids: If you have children, YouTube Premium provides an enhanced experience on the YouTube Kids app as well. Kids can enjoy an ad-free, age-appropriate environment with additional parental control features.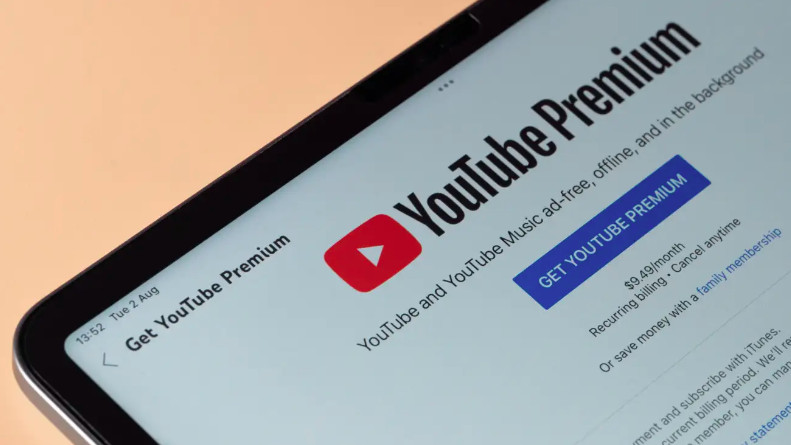 For new members, YouTube Premium offers a one-month free trial after which it costs $13.99 a month. You can stop recurring billing at any time. You can join up for an annual plan for $139.99 to save slightly more than $20 if you want to make some further savings.
In addition, YouTube Premium provides a family plan for $22.99 per month that allows you to add up to five family members who are 13 years old or older. The student plan, on the other hand, is $7.99 per month but calls for a yearly verification.
| | |
| --- | --- |
| Service | YouTube Premium |
| Individual Plan | $13.99 per month |
| Family Plan | $22.99 per month |
| Student Plan | $7.99 per month |
YouTube Music
Vast Music Library: YouTube Music has an extensive collection of songs, albums, live performances, remixes, covers, and music videos from various artists and genres. You can explore popular music, discover new artists, and listen to official releases.
Personalized Recommendations: The platform uses algorithms to provide personalized music recommendations based on your listening history, preferences, and location. It suggests playlists and songs tailored to your tastes, making it easier to discover new music.
Playlists and Mixes: You can create your own playlists on YouTube Music, grouping your favorite songs and albums together. Additionally, the platform generates mixes based on specific moods, activities, or genres. For example, you can find workout mixes, study mixes, or genre-specific mixes.
Integration with YouTube: Since both platforms are owned by Google, YouTube Music is tightly integrated with YouTube itself. You can easily switch between watching music videos and streaming audio-only tracks, accessing your saved playlists and preferences across both platforms.
Smart Search: YouTube Music provides a smart search feature where you can find songs by typing lyrics, artist names, album titles, or even vague descriptions of songs. It helps you track down specific tracks even if you don't have all the details.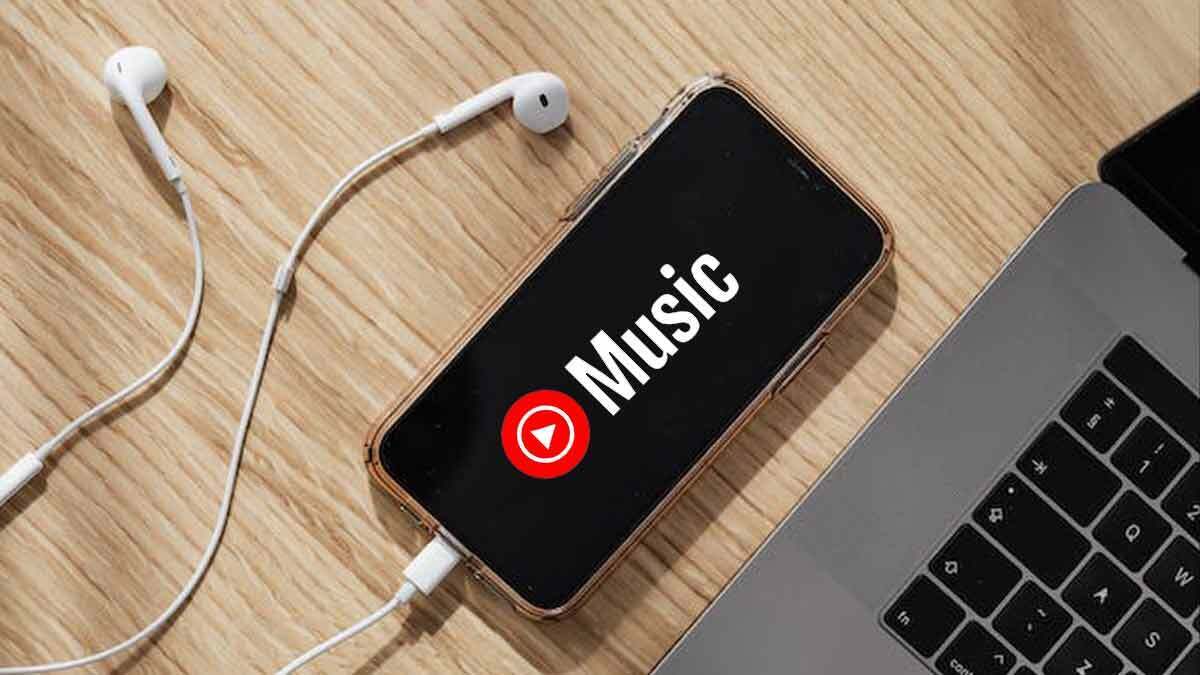 Ad-Free Listening: With a YouTube Music subscription, you can enjoy uninterrupted music playback without any advertisements. This means no interruptions or distractions while grooving to your favorite tunes.
Background Play: Subscribers can listen to music on YouTube Music even when their device's screen is off or while using other apps. This feature allows you to multitask, browse the web, or chat with friends while your music continues to play in the background.
Offline Listening: YouTube Music Premium enables you to download songs, albums, and playlists to your device for offline listening. This feature is particularly useful when you're traveling, in areas with weak internet connections, or to conserve mobile data.
YouTube Premium Included: A YouTube Music subscription automatically grants you access to YouTube Premium as well. You can enjoy ad-free viewing on YouTube, access premium content, and even watch YouTube Originals.
Cross-Platform Integration: YouTube Music seamlessly integrates with other Google services and apps. For example, you can access your music library, playlists, and preferences across multiple devices like smartphones, tablets, and smart speakers.
Exclusive Content and Features: YouTube Music occasionally offers exclusive content, such as live performances, concerts, and music videos from popular artists. Subscribers may also get early access to new releases, behind-the-scenes footage, and exclusive tracks.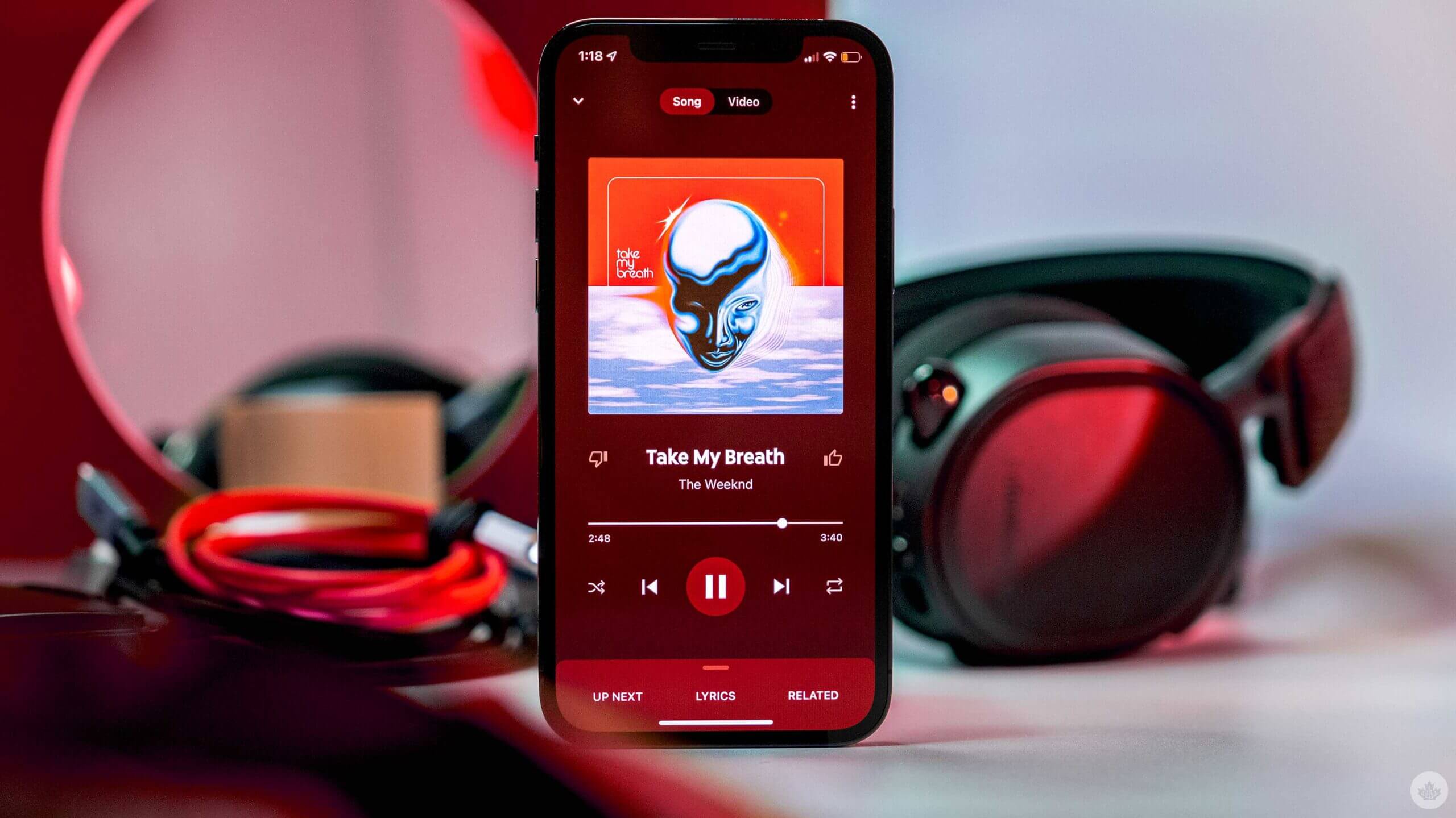 YouTube Music Individual Premium: This subscription plan provides an ad-free experience with additional features. It allows you to listen to music in the background while using other apps, download songs for offline listening, and access the YouTube Music library without interruptions. It often includes a subscription to YouTube Premium as well. The pricing for YouTube Music Premium is $10.99 per month. The price for its annual plan is $109.99. Members who subscribed five years ago, including those who signed up originally through Google Play, would get three more months of subscription at the old price.
YouTube Music Family Plan: This option allows you to share a YouTube Music subscription with up to five family members, residing at the same address, at a discounted price. The Family Plan usually costs a bit more than an individual plan but offers savings when multiple users in a household want access to YouTube Music Premium. You can also subscribe to the YouTube Music Premium service on its own for $10.99 per month for one user and $16.99 per month for a family plan.
Student Plan: YouTube Music may offer discounted subscription plans for students in some regions. These plans often provide access to YouTube Music Premium and other benefits at a reduced price. Verification of enrollment at an eligible educational institution is typically required. A student YouTube Premium account will run you $5.49 per month, while a standalone YouTube Music plan for students is $5.49 per month.
| | |
| --- | --- |
| Service | YouTube Music Premium |
| Individual Plan | $10.99 per month |
| Annual Plan | $109.99 per month |
| Family Plan | $16.99 per month |
| Student Plan | $5.49 per month |
Part 4: Relationship between YouTube Premium and YouTube Music
YouTube Premium and YouTube Music are two separate services offered by YouTube, but they are often bundled together in some subscription plans. Here's the relationship between them:
Many times, a YouTube Premium subscription includes a YouTube Music Premium subscription as part of the package. This means that by subscribing to YouTube Premium, you get the benefits of both ad-free video playback on YouTube and access to YouTube Music without ads.
---
Part 5: How to download YouTube Music to Different Formats
If you subscribe to YouTube Music Premium, you may download your preferred audio and visual content to your smartphone and listen to it on the move. You must reconnect to the internet at least once every 30 days if you want to keep your downloads.
Additionally, you can download MP3 versions of YouTube music. Although your Premium membership allows you to download YouTube Music, you aren't able to select the format that you wish to retain on your devices indefinitely. As a result, you need a tool to assist you. Users of YouTube Free and YouTube Premium can use KeepMusic YouTube Music Converter as an add-on. With the help of this robust program, you may download songs, albums, and playlists from YouTube Music to your Windows computer for ongoing offline MP3 playback.
Tool Required:
Step 1 Install and run the KeepMusic YouTube Music Converter. Click on SIGN IN to log in to your YouTube Music Free or Premium account thus accessing the YouTube Music library.
Note: KeepMusic YouTube Music Converter won't collect your account information but it is to extract the music source from YouTube Music.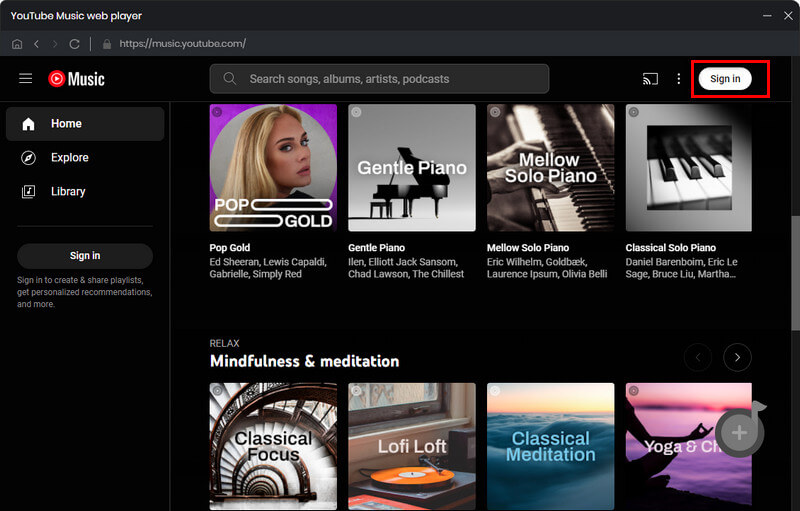 Step 2 Before downloading the song, you need to click Settings to customize the output settings: Output Format, Bit Rate, Sample Rate, Output Path, and other parameters. The sound quality will be output in accordance with the level as you stream on the YouTube Music web player. In addition, KeepMusic YouTube Converter allows you to customize the name of the output files and save the output audio files in the same order as the original playlist.
Output Format: AUTO, MP3, AAC, FLAC, WAV, AIFF, ALAC
Bit Rate: 128kbps, 192kbps, 256kbps, 320bps
Sample Rate: 44.1kHz, 48kHz, 96kHz, 192 kHz
Output Folder: C:\Users\User Name\Music\My YouTube Music (This can be modified)
Output File Name: Track Nuber/Title/Artist/Album/Playlist Index/Year
Output Organized: Playlist, Artist, Album, Artist/Album, Album/Artist, Playlist/Album, Playlist/Artist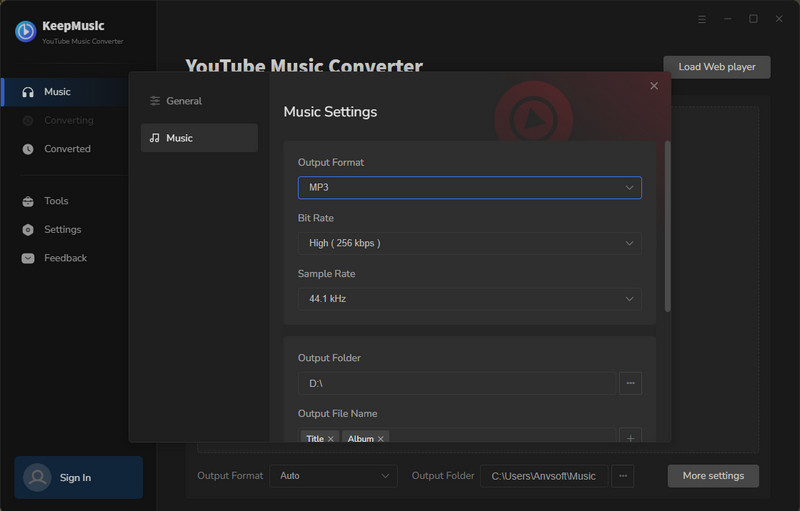 Step 3 Open a playlist, artist, album, or podcast, then click on the Add

button and select the songs that you'd like to convert. The playlist will be shown on the conversion panel. You then selectively choose the songs in batches. You can also choose the whole playlist to convert.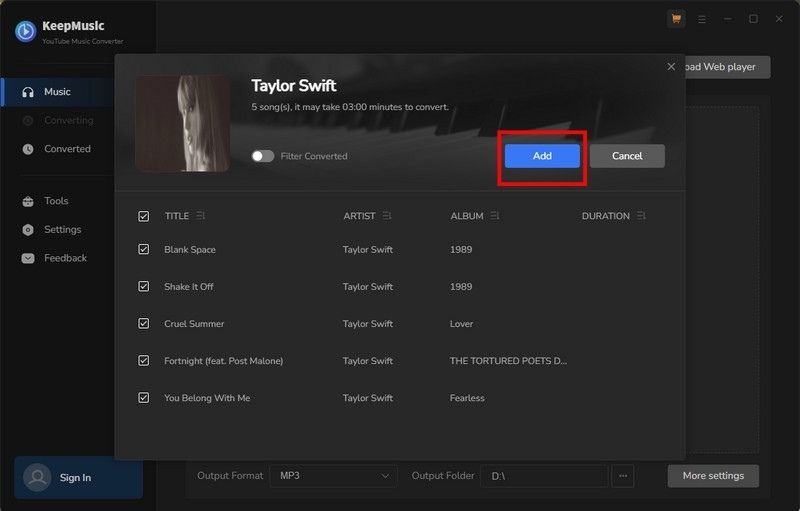 Step 4 Click on the Convert button to start downloading songs.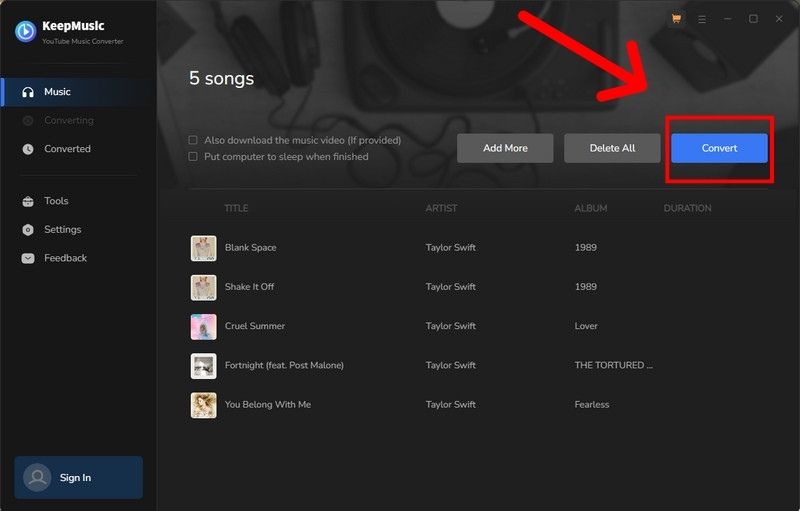 Step 5 After the conversion is completed, you can click on Converted to check the downloaded songs. Or by clicking the folder icon after the converted song, you can directly reach out to the local drive that saved all the converted YouTube Music and lyrics in TXT or LRC format.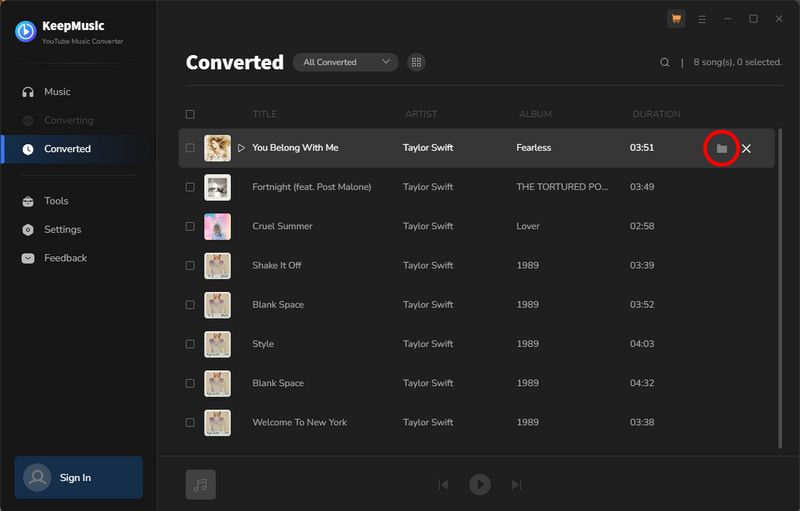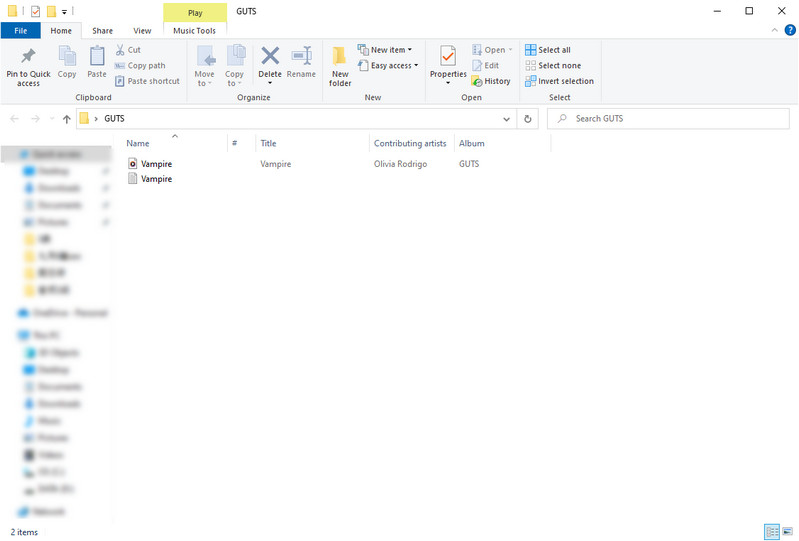 ---
KeepMusic can be downloaded for free. The free trial enables users to convert the first minute for sample testing. You can then decide whether you want to buy a license to unlock the full version or not.
Conclusion
In conclusion, YouTube Music is included in the subscription for YouTube Premium. This means that if you have a YouTube Premium subscription, you can access YouTube Music without any additional cost. YouTube Music is a great platform for streaming music, discovering new artists, and creating playlists. If you want to download YouTube Music for offline listening, KeepMusic YouTube Music Converter is your best assistant. Try KeepMusic out now and start converting your favorite songs to your device!