Home > Guide > Listen to YouTube Music on MP3 Player
How to Listen to YouTube Music on MP3 Player
Have you ever wanted to download and listen to YouTube Music on your MP3 player? You likely understand it can be difficult, and many services have software that might not work. In this post, however, you'll have a complete understanding of how to do this without any major difficulties.
We'll explore the audio formats that an MP3 player may support, how to download songs, albums and playlists from YouTube Music, and how to transfer those files over to an MP3 device...and more!
So grab your headphones and let's get started - you'll be set up with the perfect playlist for your MP3 in no time!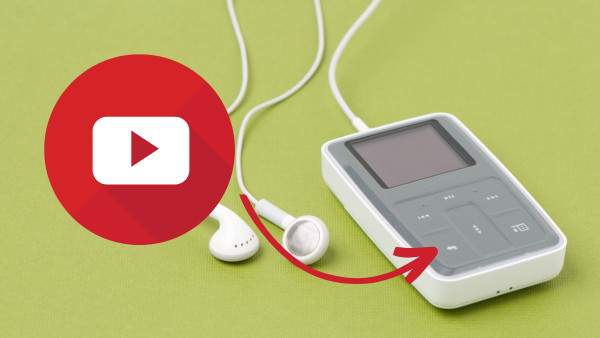 An MP3 player is a digital audio player or portable media player. It has a small storage medium inside it for storing a large number of audio files. But it is also often considered by many to only support MP3 format audio files because of its name. In fact, in addition to MP3 audio formats, MP3 players also support the following audio formats.
1. AAC (Advanced Audio Coding): It is an audio standard for lossy digital audio compression.
2. FLAC (Free Lossless Audio Codec): It is an audio file format similar to MP3, but it is lossless.
3. WAV (Waveform Audio): is an audio file format standard developed by IBM and Microsoft for storing audio bitstreams on computers.
4. OGG: It is a compressed audio file using the free, unpatented Ogg Vorbis audio compression.
5. WMA (Windows Media Audio): is a series of audio codes and their corresponding audio coding formats developed by Microsoft.
Note: If you want to know the audio format supported by your MP3 player clearly, you can check the instruction manual of the MP3 player you purchased and consult the manufacturer's after-sales technology.
Part 2: Download Songs from YouTube Music
Is there any way to help us download YouTube Music songs to MP3 player in unencrypted mode? Of course, it can be achieved with the help of a powerful tool. KeepMusic YouTube Music Converter will be your best choice. It helps you to download songs from YouTube Music and keep the original sound quality and ID3 tags. And you don't need to install other apps and YouTube Music App in the whole process.
Step 1 Run the KeepMusic YouTube Music Converter on your computer and click the "SIGN IN" button to open the login interface, fill in your YouTube Music account password.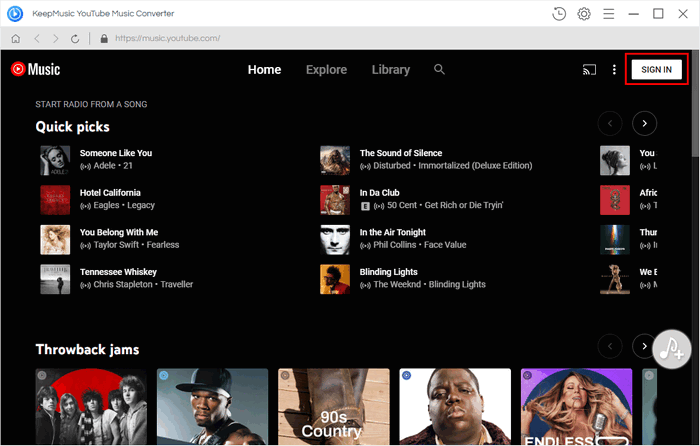 Step 2 Customize the Output Format
Now you can click the "Settings" button to open the Settings window to set the Output Format(AAC/WAV/MP3/ALAC/FLAC/AIFF), Bit Rate(128kbps/192kbps/256kbps/320kbps), and Sample Rate(44.1kHz/48kHz/96kHz/192kHz) you want. And Output Folder storage path, Output File Name, etc.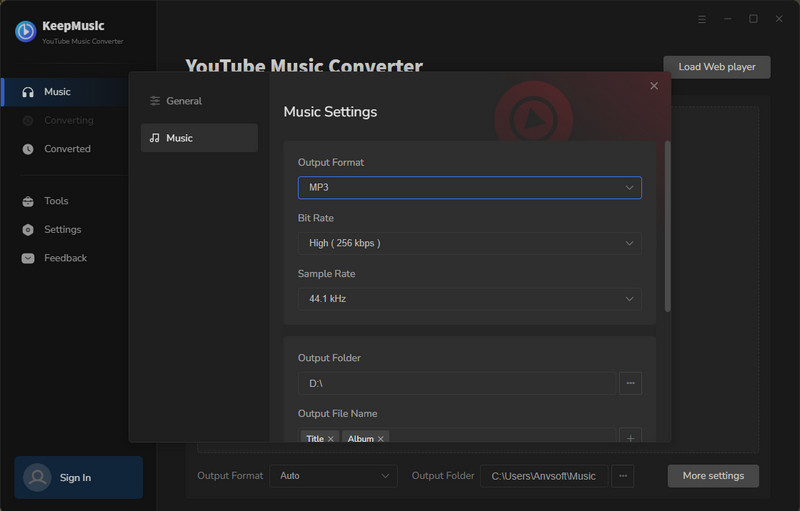 The program enables the "also download the music video" option, which automatically detects whether the song provides Music Video when downloading a song. If there is, it will be downloaded and saved in the same folder with the song. You can choose the video download quality you need in the settings window.
Step 3 Add Songs to Download
After setting, click Close to save the setting. Then select a playlist, album, or artist you like and open it, click the "Add"

button at the bottom right to open the add song interface. Select the songs you want and click the "Convert" button to start downloading.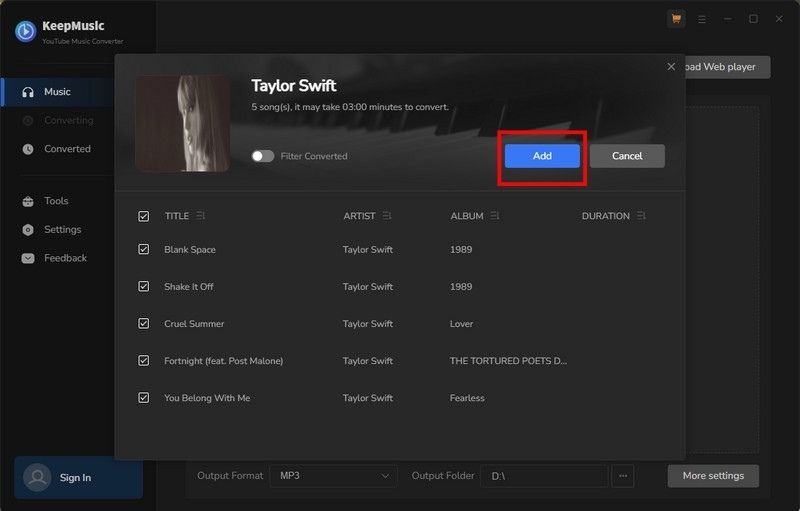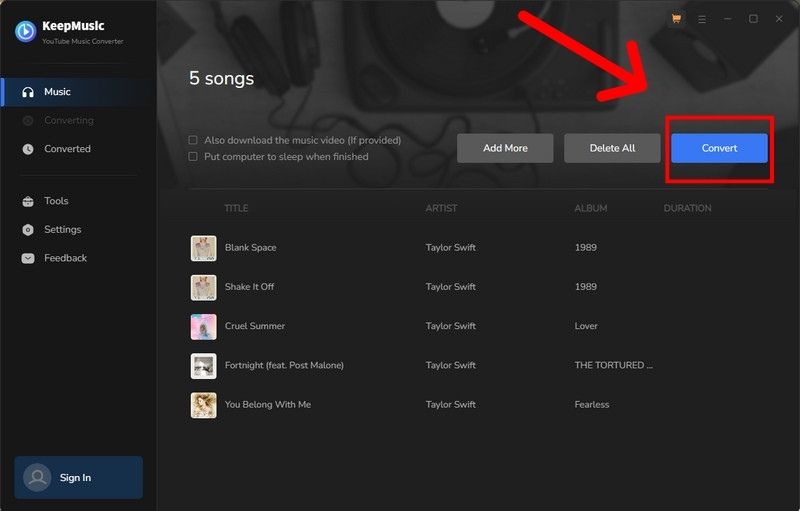 Step 4 Check the Downloaded Songs
After the download is complete, you can click the "Converted" icon in the left side or the Folder icon to view all downloaded songs.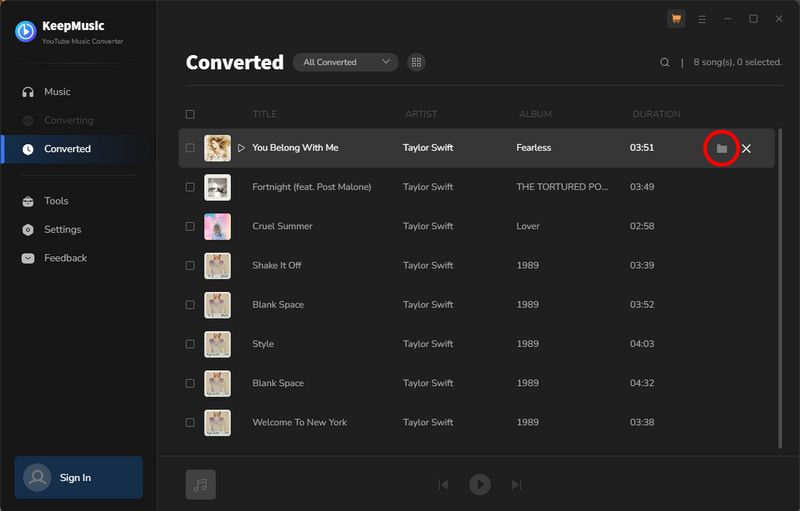 KeepMusic can be downloaded for free. The free trial enables users to convert the first minute at one time for sample testing. You can then decide whether you want to buy a license to unlock the full version or not.
After the above steps, all the audio files are saved on the PC in the format you want. Then just a few simple steps and you can move all the music files to the MP3 player.
1. Use a data cable to link your MP3 player and computer, and set it as a storage tool in the pop-up window. This is how you can see your MP3 player listed in "This PC".
2. Find the folder where you saved the downloaded YouTube Music songs (you can put all the audio files in one folder in advance) and open your MP3 player folder at the same time.
3. Select the YouTube Music song folder, hold down the left mouse button and drag the audio file to the MP3 player folder.
4. After the transfer is complete, you can find the songs in the MP3 player, and you can disconnect the data cable. Now you can use your MP3 player to play your favorite YouTube Music songs.
Summary
Overall, MP3 players support a variety of audio formats and can be used to enjoy music downloaded from YouTube Music with a few steps. With the use of a digital media player, users are able to access and play tunes from a diverse range of sources. This provides you with the opportunity to bring your favorite tracks wherever you go.
The process to get music from YouTube Music on an MP3 player requires no advanced technical knowledge. What you need is KeepMusic, a professional yet beginner-friendly tool that can download & convert YouTube Music to MP3/AAC/WAV/FLAC/AIFF/ALAC, allowing you to experience the convenience of listening to music on portable devices.