Home > Guide > Save YouTube Music to SD Card
How to Save YouTube Music to SD Card
YouTube Music is a streaming service. On YouTube Music, you can easily find what you need and new songs. From there, you can access thousands of official releases of songs, albums, artists, remixes, and live performances. You can use an app or a desktop program. When we are also often caught in such a dilemma, mobile devices run out of memory when downloaded YouTube songs reach a certain number. And in fact, the best way to solve this problem is to save YouTube Music songs to SD card. This is also the topic of today's article, let's see how to save YouTube Music songs to SD card.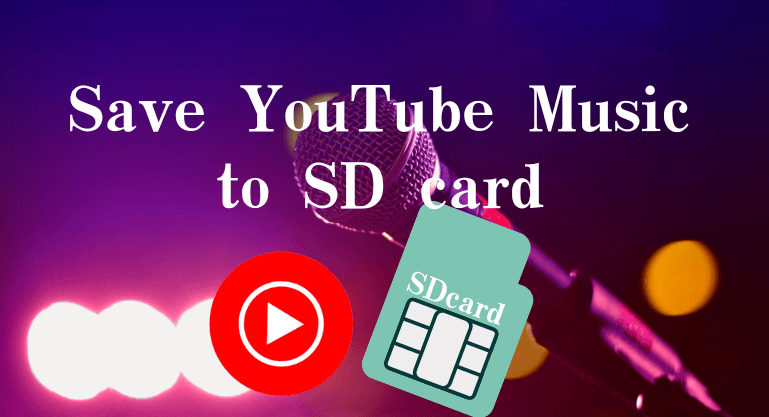 Method 1: Save YouTube music directly to SD card.
It is not impossible to save YouTube Music to SD card directly. But this method is only available for YouTube Premium users. YouTube Free users, you can directly read Method 2.
Step 1 Run the YouTube Music app on your Android phone. Then tap your profile photo in the upper right corner of the screen.
Step 2 Click the Settings button with the same shape as the gear. Select Download from the drop-down list.
Step 3 Slide the switch option on the right side of SD card to the ON position.
Step 4 Browse to or search for the YouTube Music songs you want to download.
Step 5 Select the 3-dot icon and select the download option from the list given. The selected song, album or playlist will then start downloading. When finished, the download button will turn blue.
Note: If you choose to save downloads to SD card, downloaded music will be saved to phone memory by default. What's more, you can't directly move songs that have been saved to the internal storage to the SD card. To put this music on the card, you need to delete it all and download it again.
Method 2: Convert YouTube songs to MP3 format and save to SD card.
As you can see, saving YouTube Music to SD card is very easy. But if you are a YouTube Free user, this method is useless for you. And even if you're a YouTube Premium subscriber, when your membership expires and you don't plan to renew, those downloaded songs won't be available for listening. In other words, only subscriptions can keep songs "active".
Don't worry, this method below is available for YouTube free users as well as premium users. All you need is a third-party tool. KeepMusic YouTube Music Converter will be your best choice. It can help to download original sound quality songs from YouTube Music and save as MP3/WAV/AAC/ALAC/AIFF/FLAC format. What's more, the song files you download will no longer be temporary audio files. After the download is complete, you can freely transfer these songs to USB driver, SD card, Apple Watch, etc.
If you don't have the KeepMusic YouTube Music Converter program, please click the download button above to download and start the program on the desktop
Step 1 Start the program, log in your YouTube Music account according to the SIGN IN instructions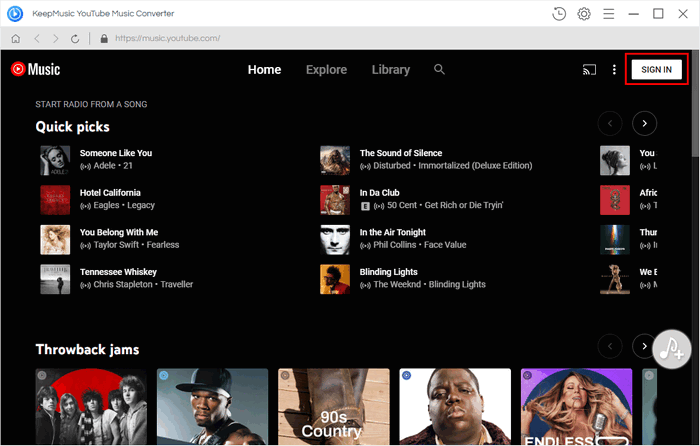 Step 2 After logging in, you can browse the YouTube Music library at will. But before you start downloading songs, there is one more important thing you need to do. Click the "Settings" to open the settings panel. Here you can set Output Format (AAC/WAV/MP3/AIFF/ALAC/FLAC), Bit Rate (128kbps/192kbps/256kbps/320kbps), Sample Rate (44.1kHz/48kHz/96kHz/192kHz). And if you turn on the "also download the music video" button, The program will automatically detect whether the song provides Music Video, and if so, the video will be downloaded together with the song.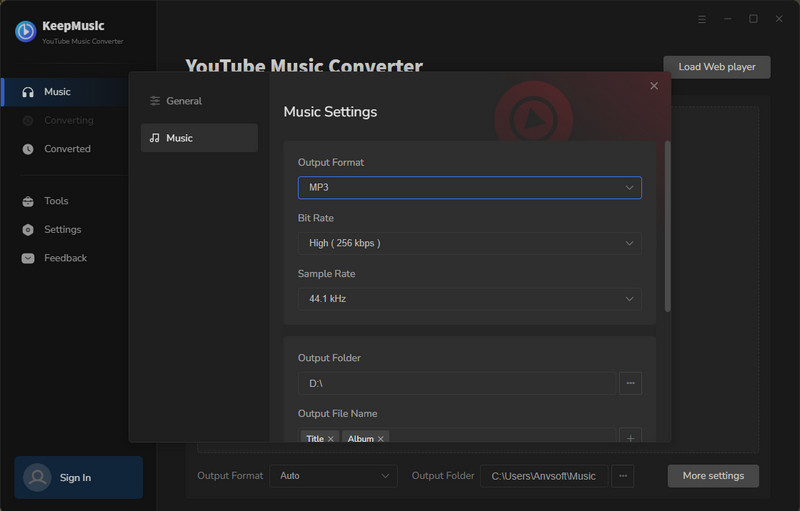 In addition, you can also set the Output Folder here > click the three-dot icon and select the folder path you want to save. Output File Name and Output Organized.
Step 3 Once setup is complete, close the settings panel to save. Now you can open a playlist, album, or artist and click the "Add" button to select the song you want to download. After selecting, click the "Convert" button to start downloading the song.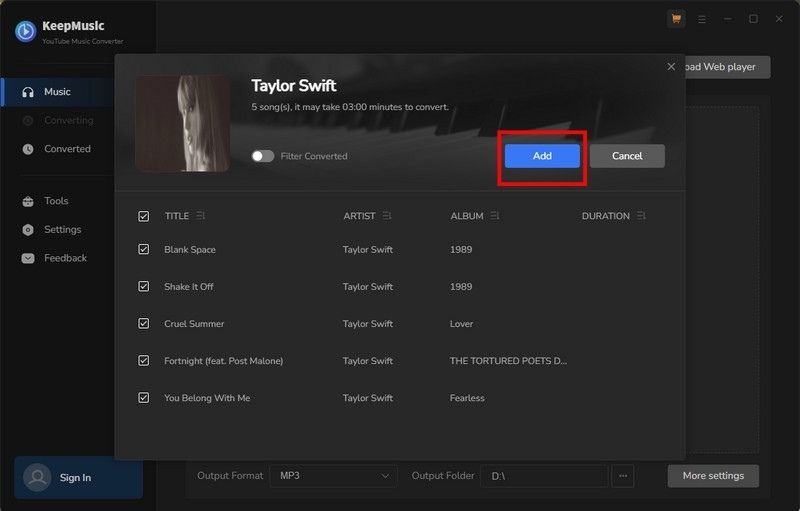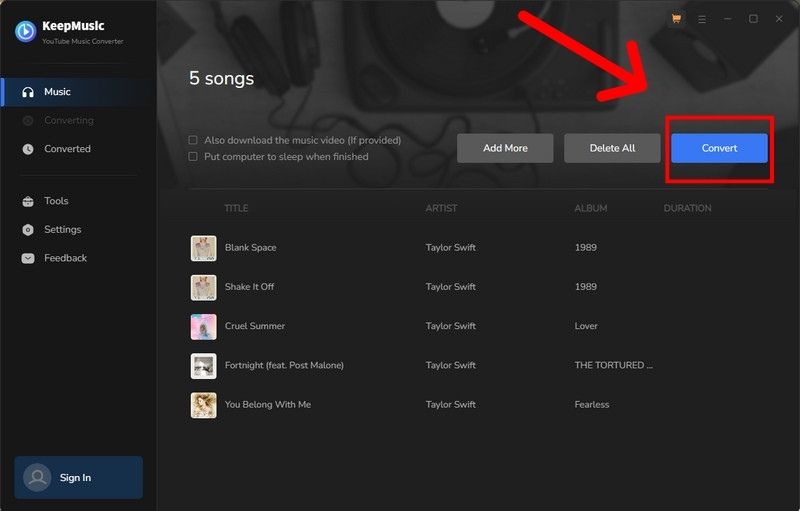 Step 4 If there are not many songs you want to download and the network is smooth, you only need to wait patiently for a few minutes and then click the "Converted" icon in the left side or the Folder icon to view the downloaded songs.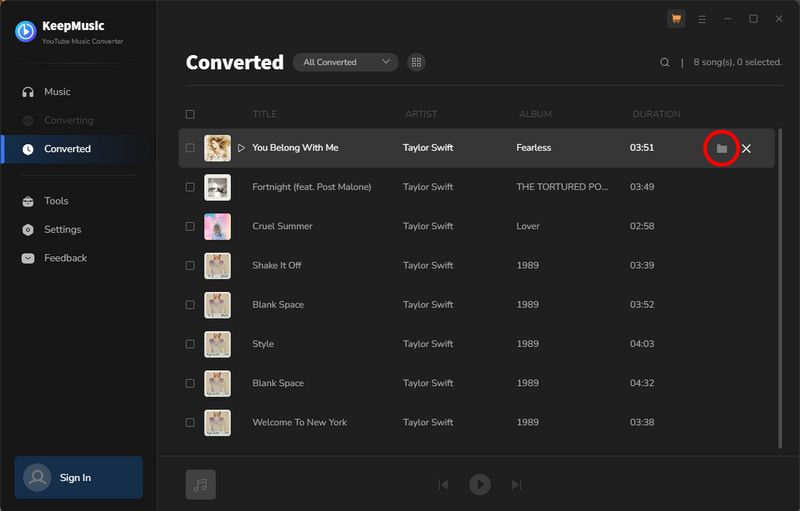 Step 5 How to Save YouTube Music to SD Card
Once the songs are downloaded, you can save YouTube Music songs to SD card in a few simple steps.
1) Insert your SD card into your computer's SD card slot. If your computer does not have an SD card slot, you can prepare a card reader to insert the SD card into the card reader, and then insert the card reader into the computer's USB port.
2) After the computer reads your SD card, open the SD card and find a folder where you can save your music files.
3) Then find the folder you selected to save the music in the settings in step 3, and drag the downloaded audio file to the folder on the SD card.
Summary
After reading this article, you will find that there is more than one way to save YouTube Music to SD card. But the most convenient and suitable method for all users is obviously to use KeepMusic YouTube Music Converter which is a fast and efficient tool. What are you waiting for? Download now and keep all your favorite YouTube Music forever! We offer a free trial version.
KeepMusic can be downloaded for free. The free trial enables users to convert the first minute for sample testing. You can then decide whether you want to buy a license to unlock the full version or not.