Home > Guide > Extract Music From YouTube
How to Extract Music From YouTube?
YouTube is a popular platform for enjoying music, with millions of songs and music videos available for free streaming. Whether you're looking for the latest hits or classic tunes, YouTube has something for everyone.
It also offers a range of features to enhance the music listening experience. But you may only want to listen to the music without playing the video. Or just want to save the music as your alarm.What should you do? We will introduce the methods to you in this article.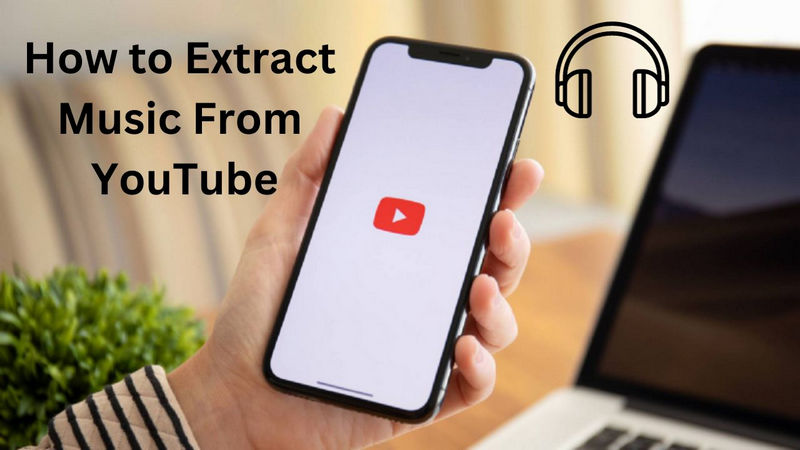 YouTube Video Downloader is a completely free YouTube downloader without any additional bundled programs. It has a user-friendly interface that allows you to easily and quickly convert YouTube videos into various formats, including M4A and WebM. It also supports users to download videos and music playlists from YouTube with batch download mode.
You can download multiple videos at one time and the videos are downloaded together at the same time, which saves you much time. Also, you can download not only videos from YouTube, but also from Facebook, XboxClips, CBS, Dailymotion, Twitter, TikTok, and Vimeo. Moreover, it supports to download videos from YouTube with the best quality (1080P, 2K, 4K, 8K) and great speed. Considering the storage space of different devices, it also provides the option to select the video quality ranging from Low to High in the setting window.
But it should be noted that YouTube Video Downloader extracts music from YouTube videos. So before downloading YouTube Music playlists, you need to find the video URL that contains the music you need on YouTube.
Step 1 Run YouTube Video Downloader
Launch the program, you can see a simple and concise interface.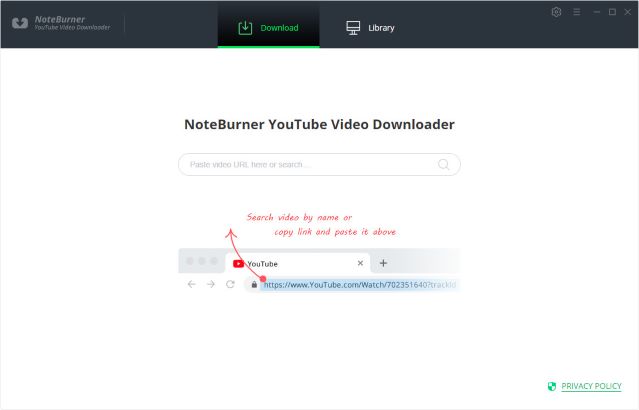 Step 2 Customize Download Settings
To adjust the video quality (High, Medium, Low), subtitle language, simultaneous download, and output path, click the setting button in the top right corner of the screen. You can select how many videos you wish to download simultaneously using the simultaneous download option.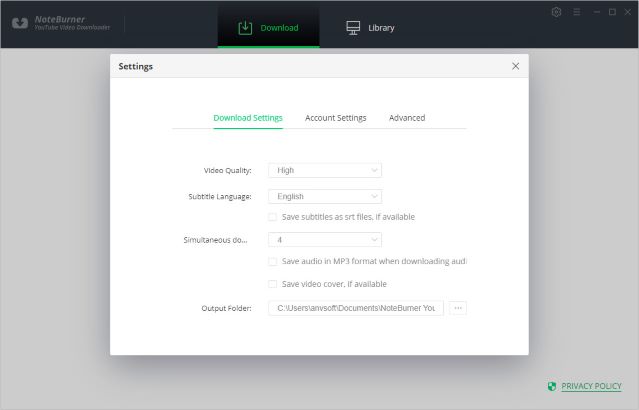 Step 3 Search Preference Videos on YouTube Video Downloader
To add a video that you want to download, simply put the link or keyword information into the YouTube Video Downloader and press the "Enter" key on your keyboard.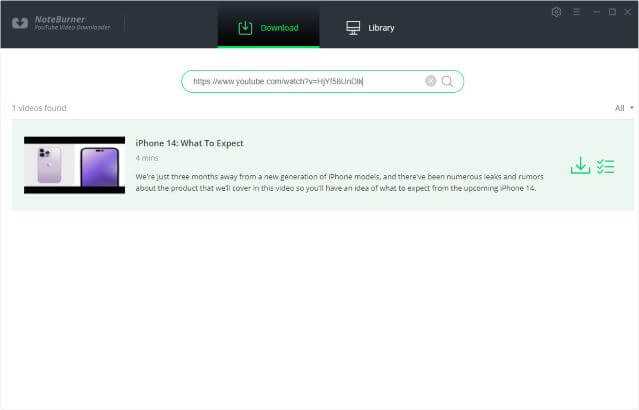 Step 4 Select Output Format and Quality
You can download videos or audio from YouTube with the help of YouTube Video Downloader. Simply click the advanced download icon to bring up a box where you can choose the video's quality, format, original size, and subtitle.
If you want to download a video, you need to choose Download as Video in the bottom left corner. Also, you can select the audio and subtitle options in their corresponding columns. If you want to download an audio file, you can choose Download as Audio. You cannot select options in the Video and Subtitle columns. It also allows you to download subtitles as separate files. To do that, simply choose Download as Subtitles.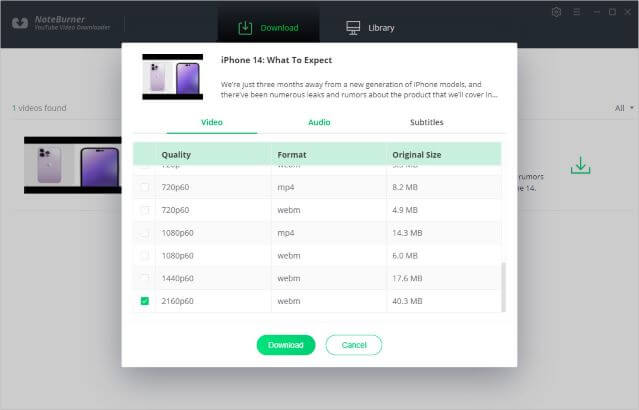 Step 5 Start to Download YouTube Videos or Audios
Click the download icon to start downloading the YouTube videos or audio files to the output folder you've chosen in the previous step.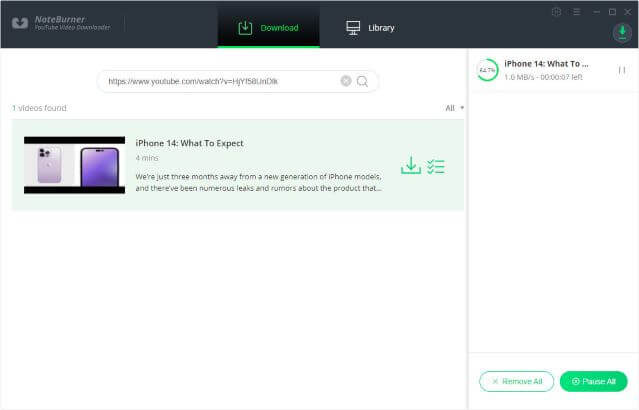 Step 6 After downloading, you can click on Library to find the well-downloaded YouTube videos or audios on local drive.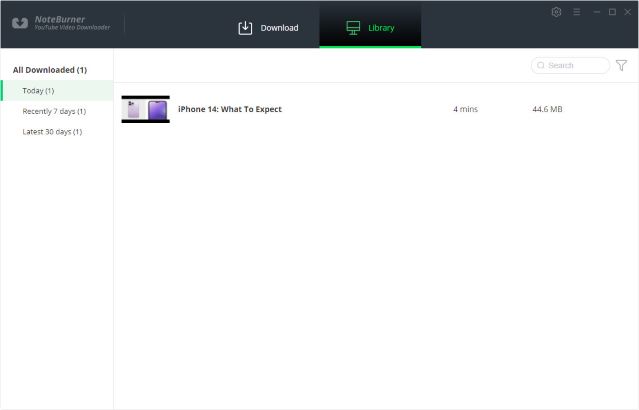 YouTube Video Downloader only supports converting YouTube videos or extracting music from YouTube videos, but it is not suitable for converting or downloading streaming YouTube Music. If you need to download streaming YouTube Music songs to ordinary MP3 and other formats, you need a professional streaming media conversion tool. Below we will introduce how to download songs from streaming YouTube Music.
KeepMusic YouTube Music Converter supports converting YouTube Music to MP3/WAV/AAC/ALC/FLAC/AIFF formats and retains ID3 tags and the original sound quality of songs after conversion. It also offers the choice to read the lyrics for the songs that have been downloaded. You may quickly download your favorite songs and playlists from YouTube Music with Keepmusic YouTube Music Converter, and you can browse the lyrics while listening to the music. For individuals who wish to sing along with their favorite songs or learn the words to new songs, this tool is especially helpful.
KeepMusic can be downloaded for free. The free trial enables users to convert the first minute for sample testing. You can then decide whether you want to buy a license to unlock the full version or not.
Summary
Music has the power to lift our spirits and make any dull activity a memorable moment. Listening to music can help us take a break from all the hustle and bustle and enjoy life. By extracting music from YouTube, you can listen offline whenever and wherever you want. So grab your phone or laptop, head over to your favorite Youtube channel, find the music you adore most, extract it with YouTube to Music Extracting tool, and enjoy it anytime! And don't forget about sharing it with family and friends - for good vibes only!