Home > Guide > Free Download Qatar Word Cup Songs to MP3
Free Download Qatar Word Cup Songs to MP3 in 2022
The 2022 FIFA World Cup expected a long time has been pulled off the prologue in Qatar in November. This is the first time the World Cup has been held in the Arab world and the second time in Asia. People from different regions are all excited because of this competition. As the heat of the competition soars, the official soundtrack for the World Cup has also been officially released.
FIFA has officially released five tracks for the 2022 World Cup in Qatar, created by Grammy Award-winning producer RedOne, who knowns for his early collaborations with Lady Gaga. And RedOne catapulted his music career to the top in 2009 with the hit song "Roman Die" with Lady Gaga. In what follows, you'll find out about the top hits from the FIFA World Cup in Qatar. Besides, we will also show you how to download Qatar World Cup hits from YouTube Music as local MP3 files. Without further ado, let's get started!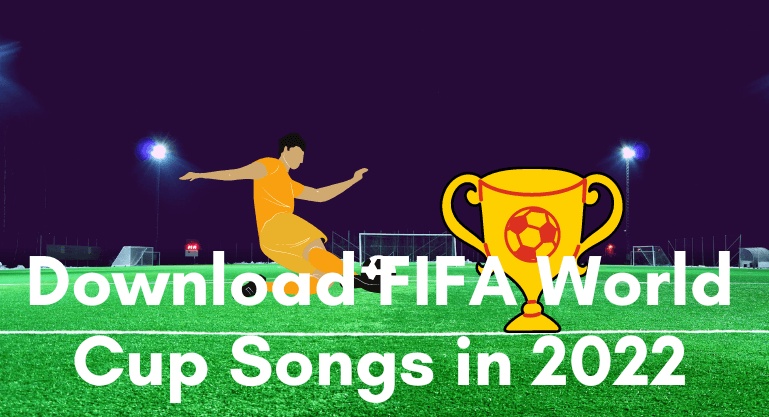 Part 1. Qatar World Cup Top Songs List
Official Soundtrack
Do you want to know what will be the official soundtrack for the 2022 FIFA World Cup? Here we will show you 5 theme tracks for the 2022 World Cup in Qatar.
1. Hayya Hayya(Better Together) - Cardona, Davido, and Aisha
"Hayya Hayya (Better Together)" is the first official soundtrack to be released for the 2022 World Cup. Released in April of this year, it is a song that draws on influences from R&B and reggae. It was written by Trinidad Cardona and sung by Davido and Elsa. The melody of the whole song is brisk, and it sounds pleasant to people unconsciously.
2. Arhbo - Ozuna featuring Gims
Released in August, Ahrbo features Puerto Rican artist Ozuna and Franco-Congolese rapper Gims in Spanish and French, respectively. According to FIFA, "arhbo" is a Qatari slang word meaning "welcome" and derived from the Arabic word "marhaba". There is also an Arabic version of the song, sung by Hasser Al Kubaisi, Ayed, and Haneen Hussein.
3. The World Is Yours to Take - Lil Baby x Tears for Fears
The third track on the Qatar World Cup soundtrack is "The World is Yours to Take" by singer Lil Baby, which was released in September. Additionally, singer Lil Baby said the song's thematic framework was a sample from the famous 1985 single "Everybody Wants to Rule the World" by the British band Tears For Fears.
4. Light the Sky - Rahma, Balqees, Nora, and Manal
"Light the Sky" was released in October and features four female vocalists, Balqees, Nora Fatehi, Rahma Riad, and Manal. "The music video for the single celebrates the first-ever FIFA World Cup officiated by a female referee," FIFA said. It is reported that there are three female referees in this FIFA World Cup - Stephanie Frappart of France, Salima Mukansanga of Rwanda, and Yoshimi Yamashita of Japan.
5. Tukoh Taka - Nicki Minaj, Maluma and Myriam Fares
Launched just days before the World Cup, "Tukoh Taka" features Trinidadian singer Nicki Minaj alongside Colombia's Maluma and Lebanon's Myriam Fares. FIFA said the song "combines three iconic sounds of music from around the globe" and represents "the inclusivity of the game".
Top Rankings
The world football event held every four years is loved and concerned by people all over the world, and entering the World Cup is the highest honor. And such a grand event is not accompanied by wonderful music, how can such a grand event be said to be complete? Music can drive people's enthusiasm the most, and it is also an important part of driving the atmosphere. Every major streaming platform will follow the trend and sort out the songs of the World Cup, which is very convenient for fans. Directly open the relevant playlist to listen to the World Cup tracks over the years.
As a popular streaming media platform service, YouTube Music will naturally not miss events like the World Cup. For each World Cup, YouTube Music will carefully organize a series of World Cup songs for fans. You can easily find a series of tracks related to the World Cup on YouTube Music.
After reading the official FIFA World Cup soundtrack and the recommendation of popular songs, I believe you can't wait to know how to download these popular World Cup tracks to your local space. Next, we will show you the detailed steps to download the 2022 Qatar World Cup tracks and save them as local MP3 files.
Part 2. How to Download Qatar Word Cup Songs from YouTube Music to MP3
YouTube Premium users have been known to download songs directly from YouTube Music for offline listening. But you can only listen to the tracks within the program, which will make there is no big difference between listening to songs online and downloading. If you have the time, you can also sign up for a YouTube Music Free account.
But if you want to download the 2022 Qatar World Cup tracks as local MP3 files and seek more choices, you need to use an effective tool - KeepMusic YouTube Music Converter. This way you can transfer your favorite tracks to play on different devices.
KeepMusic YouTube Music Converter can help you download tracks and Music videos from YouTube Music and save them locally. It has a built-in YouTube Music web player, so you don't need to download additional music apps. In addition, it supports downloading songs as MP3 files, and can also be downloaded as AAC/WAV/ALAC/FLAC/AIFF formats, while retaining the original sound quality of songs and editable ID3 tags.
Step 1Install and run the KeepMusic YouTube Music Converter on your computer. And click the blue "SIGN IN" button to log in with your YouTube Music account.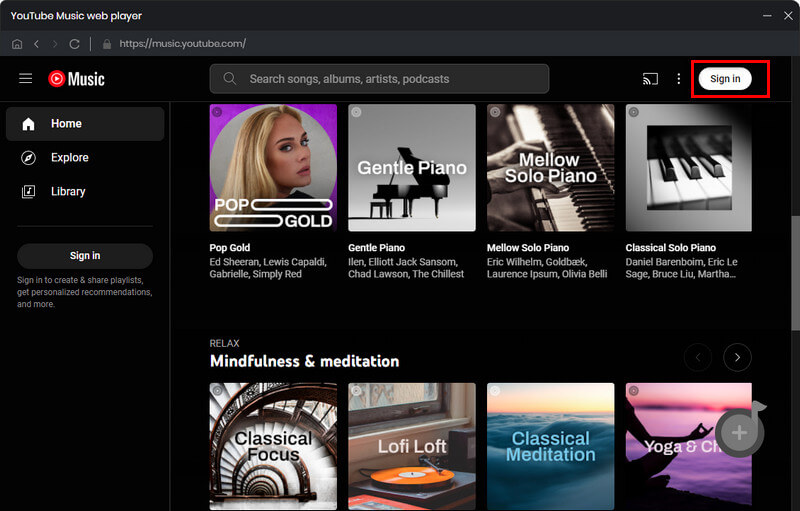 Step 2Set the Output Format
Click the "Setting" button and choose MP3 as the output format. Also, you can set the bit rate and sample rate according to your needs.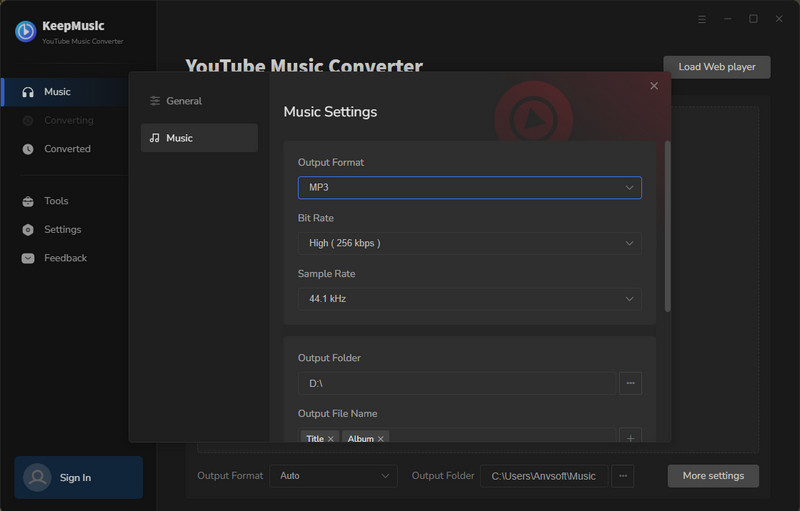 Besides, you want to get a video, click the "also download the music video" option. That means when you download a song, the program will automatically detect whether the song has a matching Music Video. If there is one, you will get both an audio file and a video file.
Step 3 Add Songs to Convert
Now you can open the playlist of the 2022 FIFA World Cup tracks. Then click the "Add" button to select the songs you need to download. After making your selections, click the "Convert" button.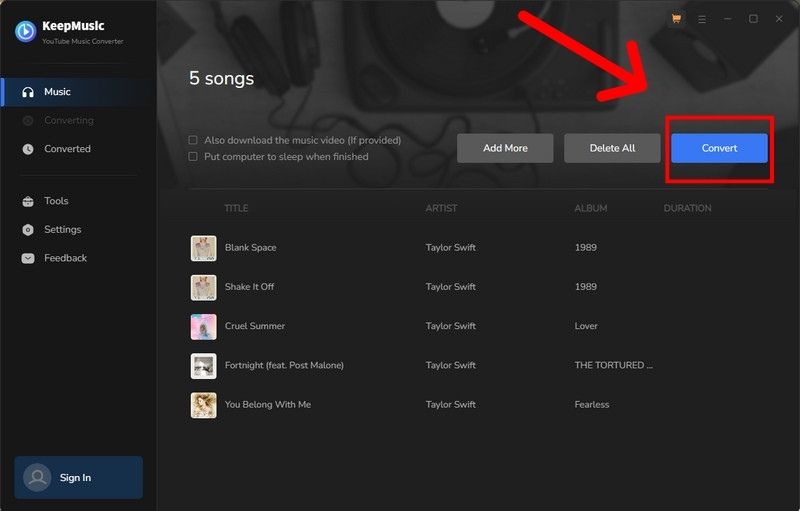 Step 4 Check the Downloaded Songs
After downloading songs, you can click the "Converted" or click the folder icon to check the converted songs.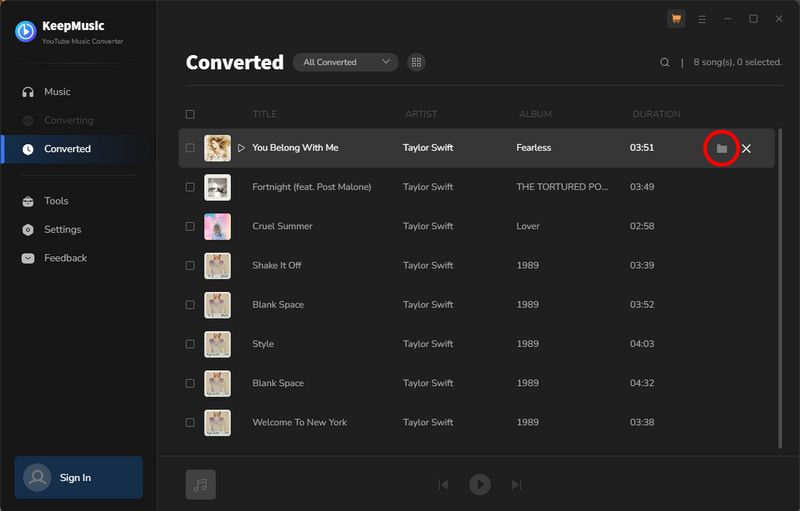 The converted songs can be yours forever. You can share them with your friends and family, burn them to CD, set them as alarms, or add them to videos as BGM, etc. Enjoy free offline play now!
Notes: The free trial version of the KeepMusic YouTube Music Converter enables you to convert the first minute of each song. You can unlock the limitations by purchasing the full version.
Summary
Above, we took a look at the top tracks for the 2022 Qatar World Cup and effective ways to turn them into your music. All you need to do is to install KeepMusic YouTube Music Converter on your computer to make it happen. Time will tell, it's worth a try!
Extra Tips: If you need to extract audio files from YouTube videos, you can use Free YouTube Video Downloader. But if you are a YouTube Music user, we still recommend downloading from YouTube Music. Because you can have more choices, the sound quality will be better, and more importantly, the conversion is faster and more efficient. And, compared to buying digital music, the price is more favorable.