Home > Guide > Download YouTube to MP3 Music
Top 12 Free YouTube to MP3 Music Downloaders
Are you a music lover who can't get enough of YouTube tunes? Don't waste any more time trying to figure out how to capture the songs you need - instead, check out our guide for finding the best to search for the songs! We've put together this list of 12 top converters (both online and desktop versions) so that no matter what kind of device or operating system is your go-to choice for accessing YouTube content, there will be something great just waiting for you. You don't have to worry about sacrificing convenience or sound quality either - each option has been specifically chosen with both in mind, offering fast conversion times and excellent audio quality. Let's jump right in!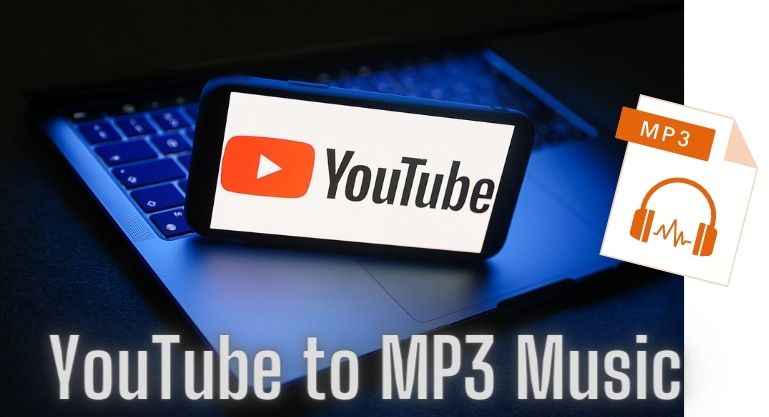 1. KeepMusic YouTube Music Converter
KeepMusic YouTube Music Converter is developed by KeepMusic.Inc, a technology company and it is a perfect solution for downloading YouTube Music to MP3/AAC/WAV/ALAC/FLAC/AIFF. KeepMusic YouTube Music Converter is equipped with an embedded YouTube Music Web Player negating the need for additional music applications. With high-quality, ID3 tags, and original sound, you'll have complete control over your music library. What's more, with the help of KeepMusic, you can enjoy 10X faster conversion speed and free up more precious time.
How to Download Music from YouTube with KeepMusic
Step 1 Install and run KeepMusic YouTube Music on your computer. And login with your YouTube Music account to get your YouTube Music playlist by clicking the SIGN IN button.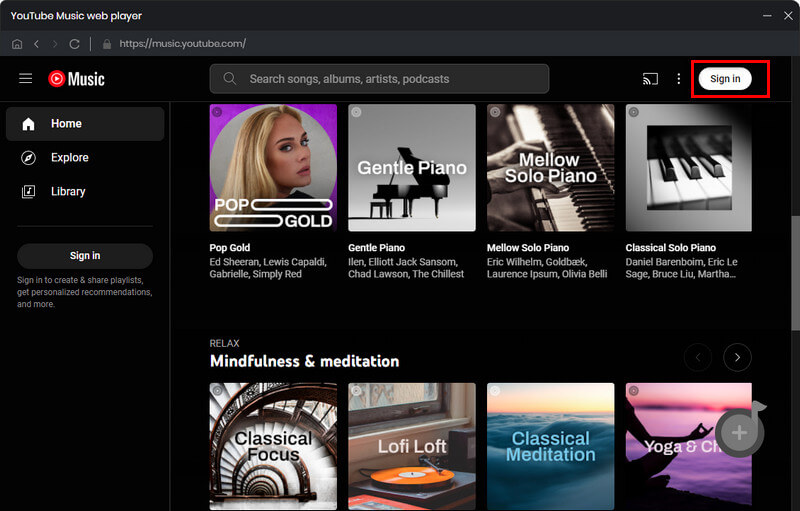 Step 2 Open a playlist or input the keywords to search the songs you want to download in the search box and click the Add button to choose the songs that you'd like to download.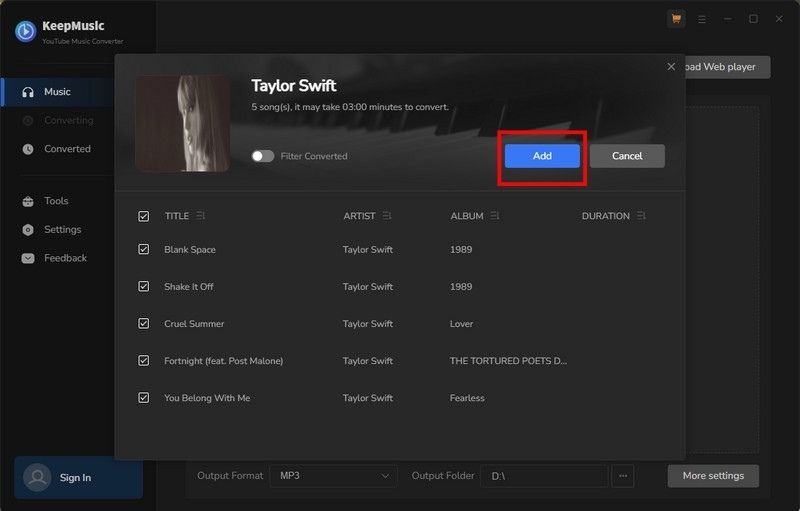 Step 3 Before downloading songs, you need to tap the Settings icon to customize the output format to MP3 and set the bit rate and sample rate.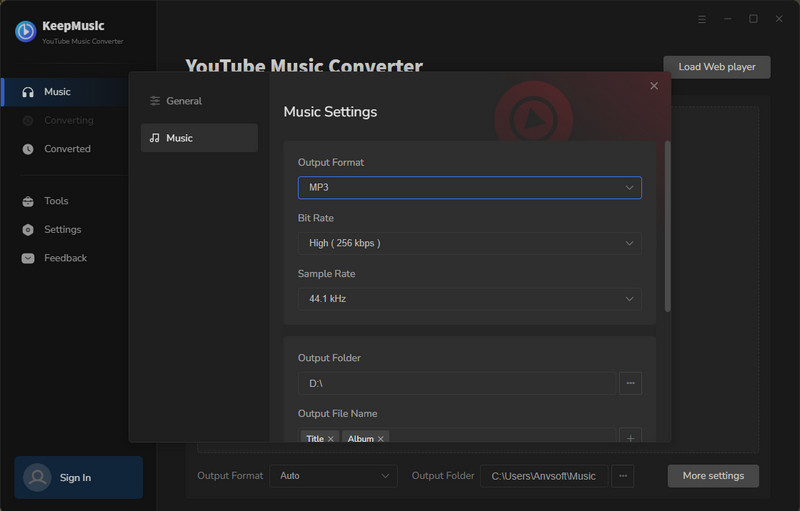 Tips: If you want to dowonload the relative videos, click also download the music video, then you will get a video file and an audio file at the same time.
Step 4 Now you can click the Convert button and wait with patient.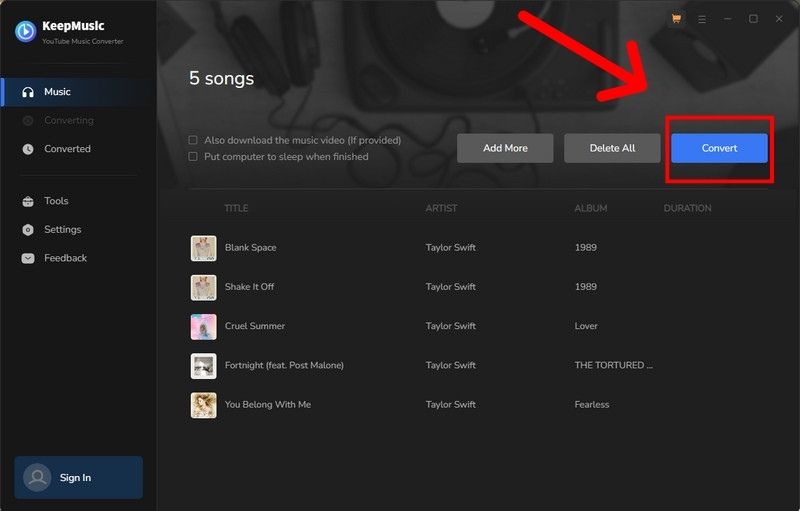 Step 5 When the conversion progress bar reaches 100%, you can click the Converted or the Folder icon to check the well-downloaded songs. And the downloaded songs will be stored on your computer as MP3 files.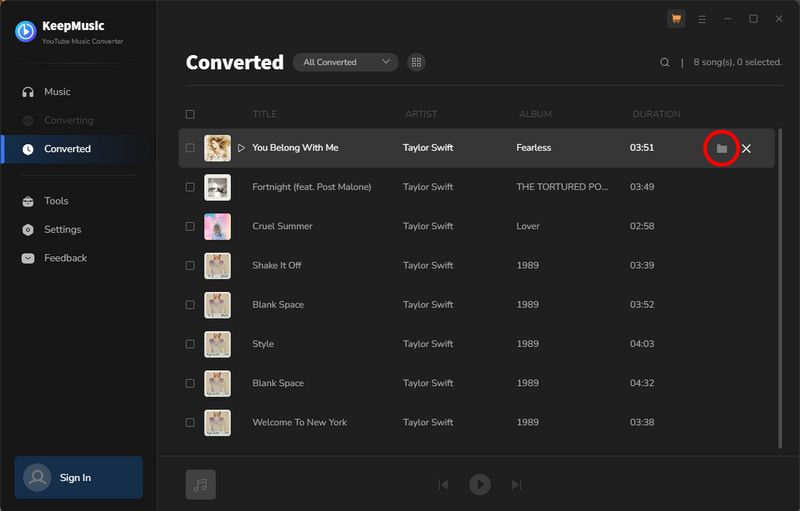 Notes: The free trial version of the KeepMusic YouTube Music Converter enables you to convert the first minute of each song at one time. You can unlock the limitations by purchasing the full version.
2. YouTube Video Downloader
YouTube Video Downloader is a completely free program without any bundles. With YouTube Video Downloader, you can export your favorite songs from YouTube to MP3.
How to Use?
Step 1 Download YouTube Video Downloader on your computer. And launch directly.
Step 2 You can copy and paste the link of videos to YouTube Video Downloader, You can copy and paste the link of videos to YouTube Video Downloader, then press Enter button on your keyboard to add the video you want to download.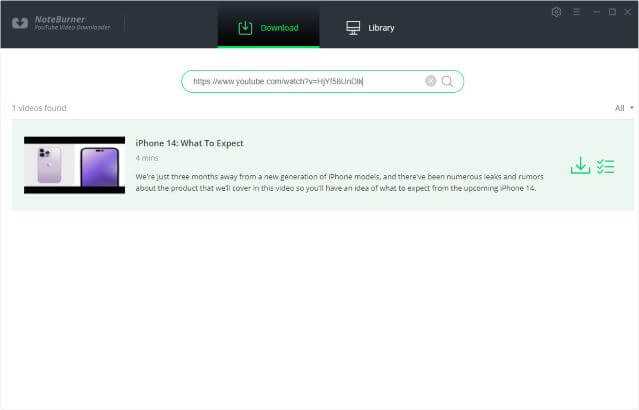 Step 3 YouTube Video Downloader empowers you to download videos or audio from YouTube. Directly click the

icon, followed by the window that will pop up to select the audio quality, and choose MP3 as the output format.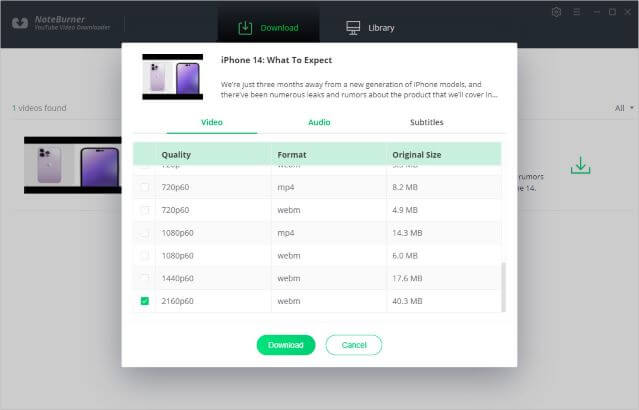 Step 4 Click the Download

icon to start downloading the YouTube audio files, and the downloaded audio files will be saved to the folder you've chosen in the previous step.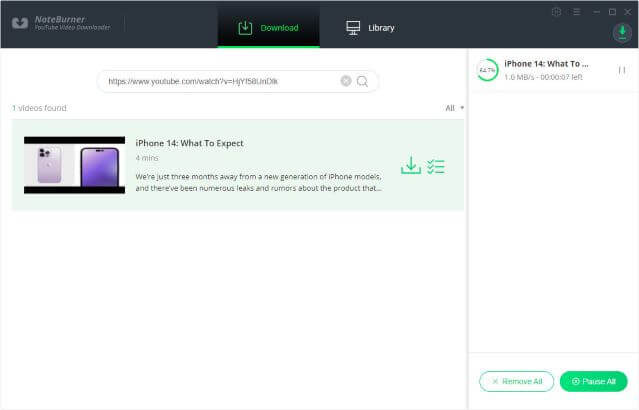 Step 5 After downloading, you can click on Library to find the well-downloaded YouTube videos or audio on the local drive.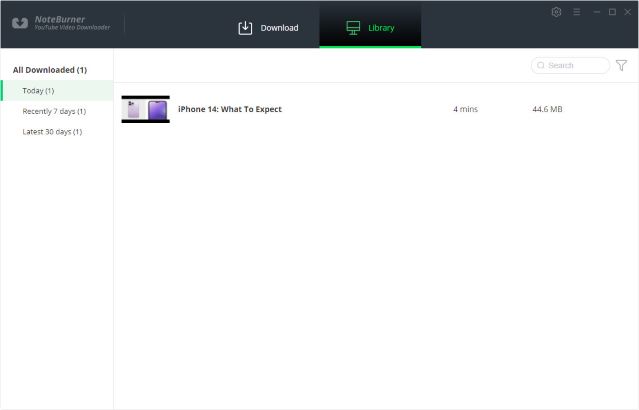 3. AudiCable Audio Recorder
AudiCable Audio Recorder is an audio recorder that integrates the trending streaming services on the market. You can use it to download Spotify, Apple Music, YouTube Music, etc. But it can only download songs at 1X speed.
How to Use?
Step 1 Run the AudiCable Audio Recorder on your computer. And click YouTube Music.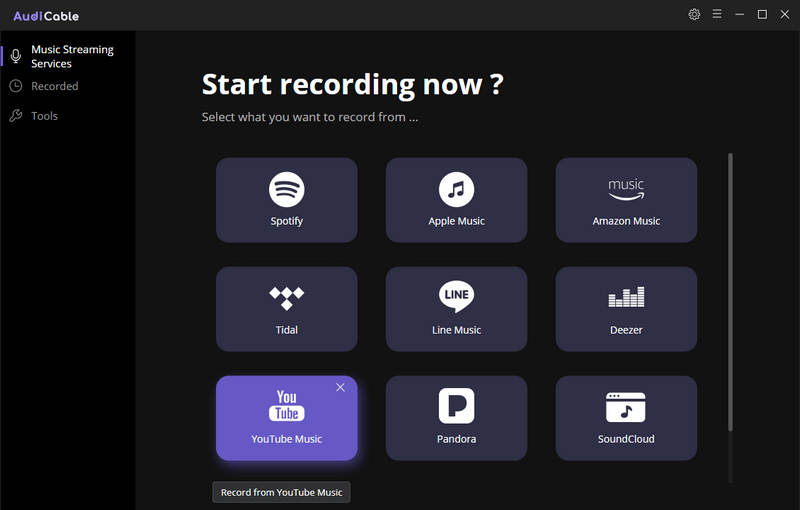 Step 2 Choose the way you want to download YouTube music. After that, sign in with your YouTube Music account.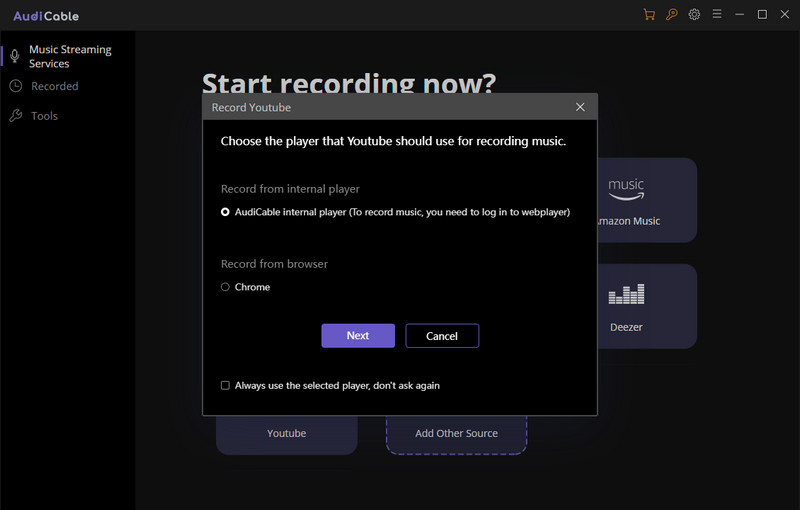 Step 3 On the top-right corner of AudiCable, click on a "gear icon". From the pop-up setting window, you need to choose "MP3" as the output format for your YouTube music.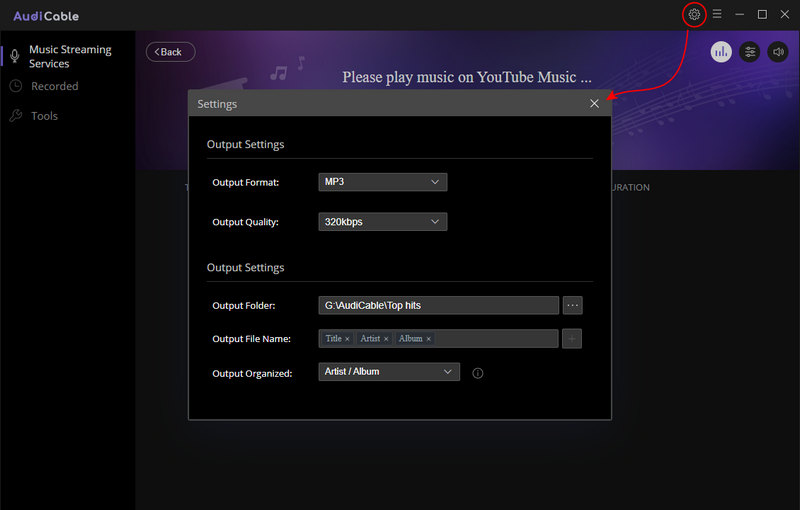 Step 4 Choose your preferred YouTube Music songs, playlists, or albums to play. As soon as you play the song, AudiCable will start recording simultaneously.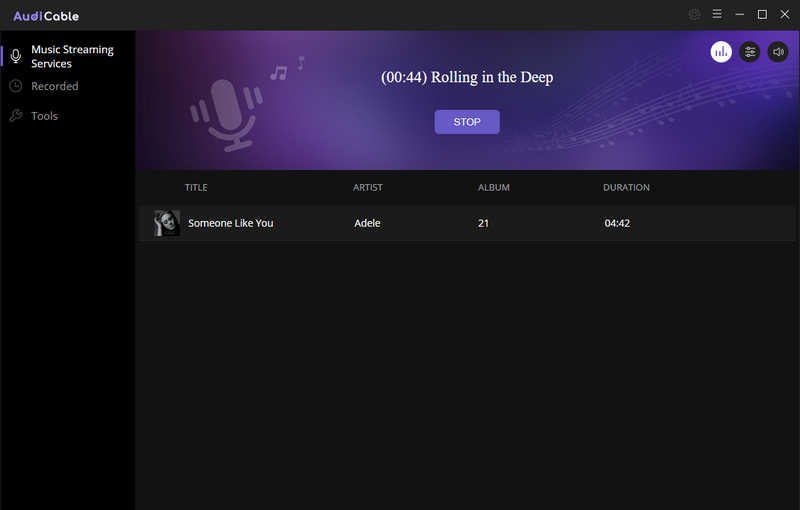 Step 4 Click the "Recorded" tap, and the "Folder icon" behind a song, then you can quickly locate YouTube Music downloads.

4. Any Video Converter Free
Any Video Converter Free is an all-in-one tool that not only converts YouTube videos to MP3 but also includes free video editing and DVD burning. With the user-friendly interface, you can download YouTube videos such as MP4, AVI, MKV, and M4V. Of course, you can also export the tracks in the video to MP3, AC3, OGG, and AAC formats. But unfortunately, it doesn't support downloading YouTube Music directly.
How to Use?
Step 1 Click the Download + button and paste the YouTube video link you want to download to the pop-up window.
Step 2 Tap the Download button and choose the output format you want, and then the video you selected will start being downloaded.
Note: Click on the share button under the YouTube video then copy the URL on the tap to get the YouTube video URL so that you can paste to the search window to download.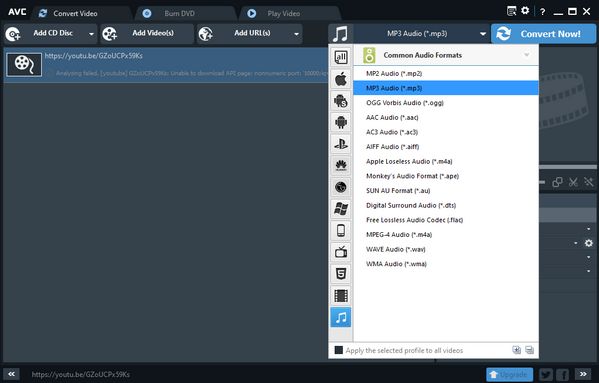 5. YouTube to MP3 Converter
YouTube to MP3 Converter is a free online conversion tool. With it, you can easily convert YouTube to MP3/MP4 format online. What's more, YouTube to MP3 Converter supports various devices, such as computers, mobile phones, and iPad, etc. But you need to know that in order to ensure that the video conversion process takes less time, this tool only allows you to convert videos within 2 hours.
How to Use?
Step 1 Search for music in the converter box or insert the YouTube URL that you want to download.
Step 2 Press the search button to start the conversion, or type some keywords to search for something.
Step 3 Choose the types of audio/video files that you want, and click the download button.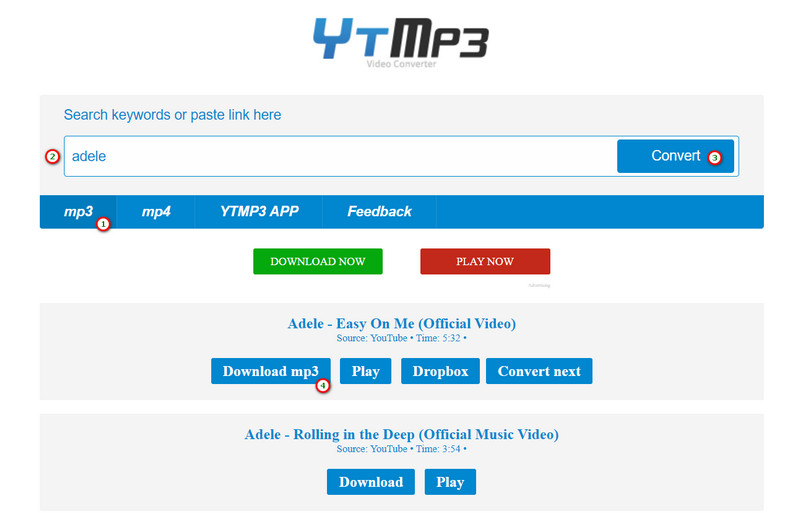 6. ListentoYouTube
ListentoYouTube is another great free YouTube to MP3 Flash video converter. In addition to the fact that the whole method of use is very simple, it can also convert Flash files into video. The download process requires pasting the URL code of the YouTube video in the box provided, then click fairly straightforward the Start button, and you're done. You can click on the Download option to download your MP3 file to your device.

7. YouTube MP3 Converter
YouTube MP3 Converter is also one of the most popular YouTube to MP3 online converters with high quality. The operation is simple, and the user-friendly interface requires no professional knowledge at all.
How to Use?
Step 1 Copy and paste the URL code into the paste box and click the download button.
Step 2 Once the file conversion is complete, simply click on the download link to download the file to your device. You can also check the duration and size of the newly converted MP3 files.

8. YTBmp3
YTBmp3 is a high-quality online YouTube to MP3 converter with many fans. Not the least of which is that it supports a wide range of systems, including Windows, macOS, Android, and Linux. Due to the user-friendly interface and high conversion speed, users can download the entire playlist with just one click, so even if you are a novice, you don't have to worry about encountering downloading obstacles at all.
How to Use?
Step 1 Open your browser search, and go to YTBmp3.
Step 2 Fill in keywords in the search box or paste the YouTube link to search for videos directly, and click Convert.

9. TheYouMP3
TheYouMP3 is an excellent YouTube audio converter with many users on all continents. A Well-designed, easy-to-use Free YouTube to MP3 Online Converter has simple and efficient features for seamless YouTube to MP3 conversion.
How to Use?
Step 1 Open the browser and transfer to TheYouMP3.
Step 2 Paste the YouTube video URL code in the paste box, and select an output format such as MP3 before finally clicking the convert button.

10. YouTubeMP3.Today
YouTubeMP3.Today can definitely be rated as one of the hottest free online YouTube to MP3 converters. With its help, besides being able to download YouTube to MP3, it also has a fairly simple and straightforward interface that ensures novices get up to speed quickly and gives users quiet navigation.
How to Use?
Step 1 Find the YouTube video you want to download or convert to MP3. Copy its URL and paste it into the white box. Or search for the video you want to download by keywords.
Step 2 Click the green download button. It will find all downloadable audio and video based on the page you submitted.
Step 3 Find the video and format you need, and click to download

11. Convert2MP3
When it comes to free YouTube to MP3 online converters, Convert2MP3 has to be in the nominations. With its help, you can convert and download videos from various popular video-sharing platforms, including YouTube. One of the successes of this free online YouTube to MP3 converter is that the conversion and downloading process is very fast. Of course, this is something that all users expect, but not all software can meet these expectations.
How to Use?
Step 1 Paste the YouTube video URL, select the mp3 format, and click Convert.
Step 2 Or you can also find and download the YouTube video or song you need by entering a search keyword (such as the song name), and then clicking "Search and Convert".

12. Onlinevideoconverter
Without a doubt, it is a free online converter worth choosing. With Onlinevideoconverter, you can convert YouTube to MP3 in a few easy steps. The program supports a variety of file formats, including the standard mp3 file format. At the same time, the amazing and stylish interface of Onlinevideoconverter has also impressed many users. The clear and direct navigation steps are very friendly and simple for users.
How to Use?
Step 1 Navigate to the Onlinevideoconverter.
Step 2 Paste the URL video link you want to copy.
Step 3 Choose the format you want to convert.
Step 4 Click "Convert" to start the conversion.
Step 5 Press "Download" to get the video.

Summary
To sum up, from this article, we can see that there are a number of free YouTube to MP3 music downloaders out there. Each one is slightly different in terms of features and functions, but ultimately they all allow you to easily convert YouTube videos into MP3 files. Whether you're looking for an app with conversion speed, batch downloads, or music storage solutions, chances are there's an option on the list above that matches your needs. The top 12 free YouTube to MP3 Music Downloaders offer users various features that make it easy for anyone to find their favorite tracks and save them for later listening. Now that you've learned about all these tools, choose the best YouTube downloader for yourself and start experiencing the joy of independent music! After all, no true youtube music lover should be without a handy collection of tunes at their fingertips.