Home > Guide > Paid & Free YouTube Music Downloaders
10+ Paid & Free YouTube Music Downloaders
Are you tired of streaming music online and want to enjoy your favorite tracks offline? We provide you with a carefully compiled list of over ten paid and free YouTube music downloaders in this extensive guide, which will satisfy all of your downloading requirements. These adaptable tools offer a variety of features to make your downloading experience seamless and pleasurable, no matter whether you're an avid music lover or a casual listener. From reliable paid options to feature-packed free alternatives, you're sure to find the perfect solution for downloading YouTube music in this diverse lineup. Prepare to expand your music collection and listen to your favorite songs anywhere, at any time!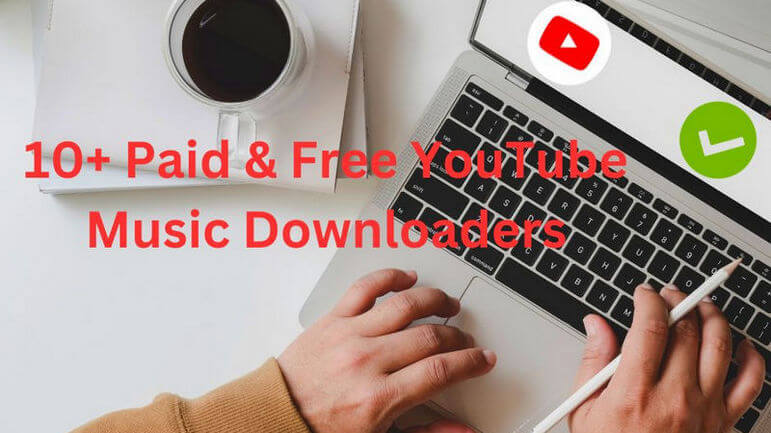 Part 1: YouTube Music Playlist Downloaders on Desktop
While many of YouTube video downloaders can also extract MP3s from YouTube, not all of them can download MP3s from YouTube Music. YouTube Music is a music streaming service that is specifically a branch of YouTube, similar to Apple Music or Spotify. Undoubtedly, higher audio quality is available on the paid platform YouTube Music, which provides official artists' tracks with licenses.
Therefore, before guiding you through the process of downloading free YouTube music, let us first show a useful tool: KeepMusic YouTube Music Converter. It is specifically made to download music to your computer from both YouTube Music Free and YouTube Music Premium, as well as to batch convert YouTube Music songs to regular audio formats at a speed of up to 10X. Additionally, YouTube Music titles will be saved with their original audio quality preserved by KeepMusic.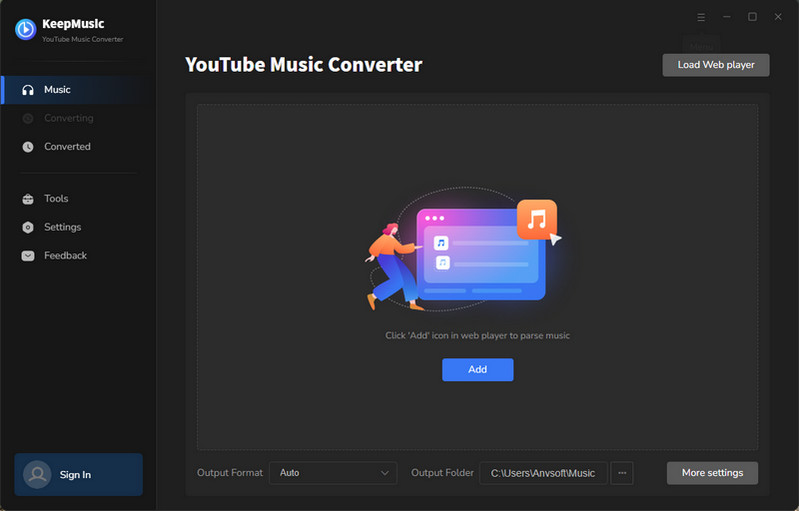 Why Choose KeepMusic YouTube Music to MP3 Converter?
Convert YouTube Music to MP3:
KeepMusic YouTube Music Converter is capable of converting YouTube Music to MP3, AAC, WAV, FLAC, AIFF, or ALAC. Converted YouTube Music files can be physically copied to external storage such as USB drives, SD cards, mobile phones, MP3 players, online media editors, DJ mixers, and other music streaming services like Spotify, iTunes, etc.
Keep Source Output Audio Quality:
YouTube Music provides official artist songs at 256kbps. KeepMusic will also help you convert your YouTube Music titles while maintaining the highest quality of the original audio.
10X Faster Conversion Speed:
KeepMusic YouTube Music Converter uses advanced technology to optimize the conversion process, resulting in conversion speeds at 10X times. It also allows users to convert multiple files simultaneously, which means that users can convert large batches of YouTube Music files in a fraction of the time.
Retain ID3 Tags and Save Song Lyrics:
KeepMusic can keep ID3 tags which allows for altering the names and order of the converted files.
Output File Name: Track Number/Title/Artist/Album/Playlist Index/Year
Output Organized: Playlist, Artist, Album, Artist/Album, Album/Artist, Playlist/Artist, Playlist/Album
* You can choose Playlist Index in the Output File Name area if you want to maintain the converted files in the same sequence as your original playlist.
Additionally, it incorporates lyrics so that you may better understand the artistic intent of your favorite.
Burn YouTube Music to CD:
With one click, KeepMusic enables burning CDs from converted music. To begin burning a CD, all you need to do is insert a blank CD and click the "Burn CD" button.
As a result, your favorite music is available on CDs that can be played on a range of equipment, including CD players, car stereos, and computers. It is now simple to bring your music wherever you go.
Download YouTube Music Video in 4K:
KeepMusic YouTube Music Converter supports downloading YouTube MV to MP4 format, you only need to open the "Download Video" button in the settings window with one click. Video output quality can be up to 4K for great audio-visual enjoyment.
How to Use KeepMusic YouTube Music Converter to Download Music?
Before using KeepMusic YouTube Music Converter to download YouTube Music playlists, please make sure you have installed KeepMusic. KeepMusic YouTube Music Converter is compatible with the latest Windows and Mac.
Step 1 Run the KeepMusic YouTube Music Converter on your computer and click the Sign In button to log in with your YouTube Music account.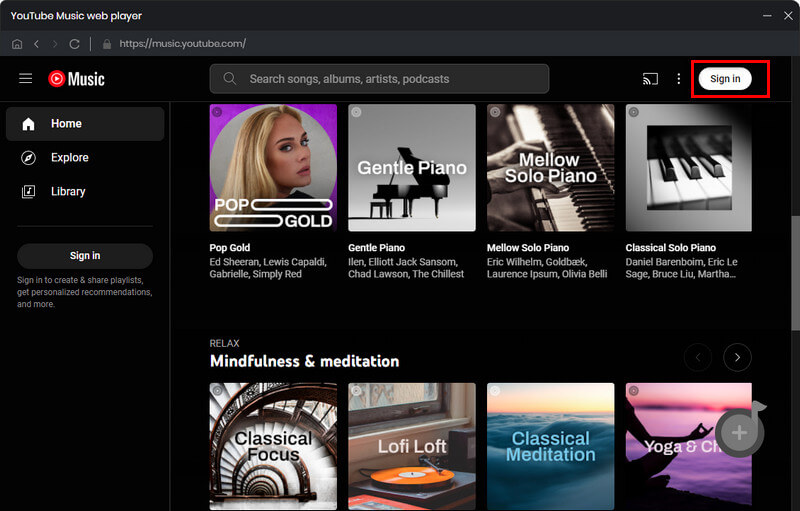 Step 2 Open a playlist or enter the keywords of the playlist you want to download in the search box. And click the Add button to add songs you want to download.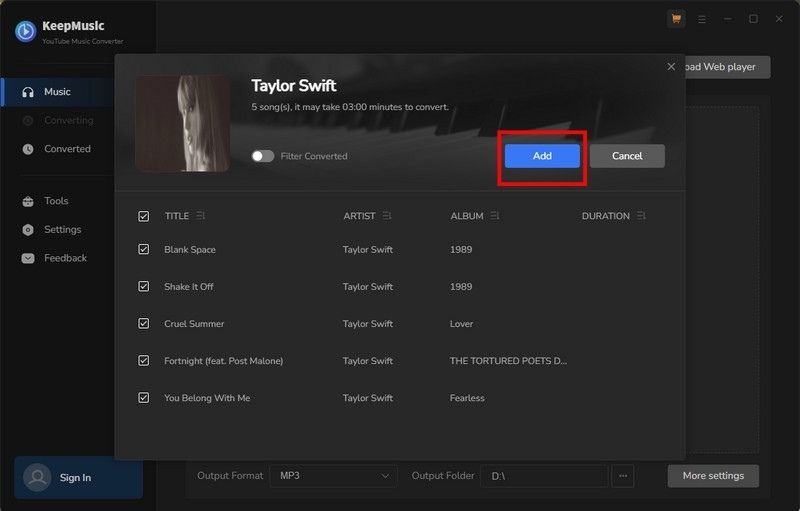 Step 3 Click the Settings button to choose the output format, sample rate, and bit rate.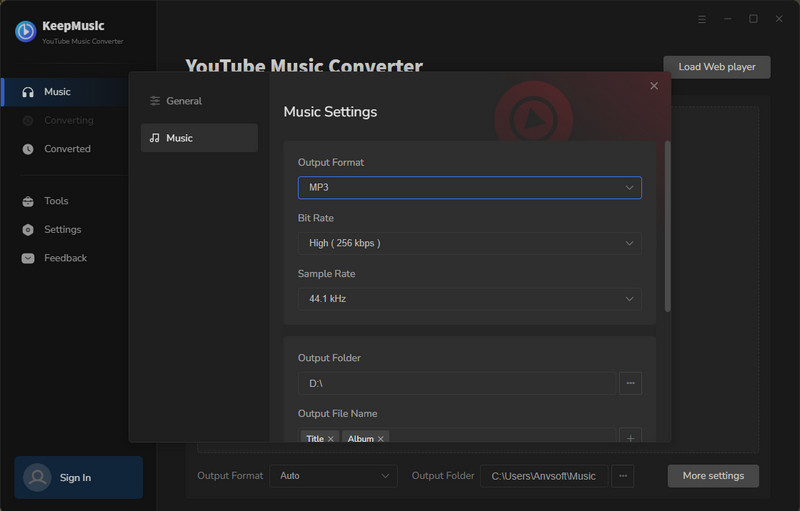 If you want to download music and video files at the same time, choose also download the music video.
Step 4 Now, you can click the Convert button.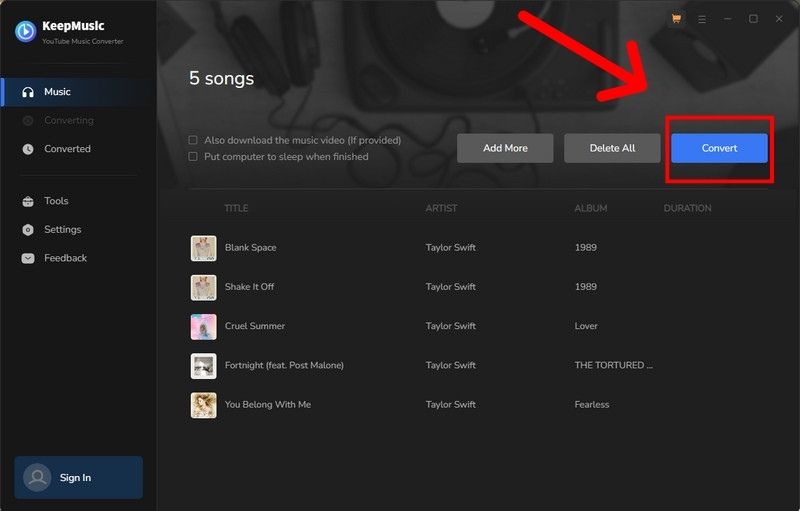 Step 5 The whole downloading process is very fast. When the progress bar reaches 100%, you can click the Converted button to view the downloaded playlist.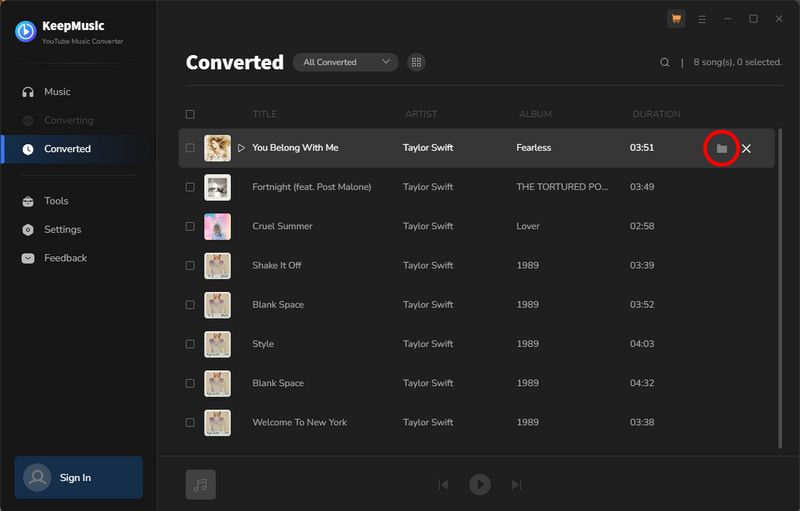 Notes: The free trial version of the KeepMusic YouTube Music Converter enables you to convert the first minute of each song. You can unlock the limitations by purchasing the full version.
AudiCable Audio Recorder can record songs and playlists from various music platforms to MP3/AAC/FLAC/WAV/AIFF/ALAC format, such as Spotify, Amazon Music, Apple Music, YouTube Music, Tidal, Deezer Music, Pandora, SoundCloud, Line Music, etc. However, AudiCable Audio Recorder currently only supports downloading songs at 1X speed.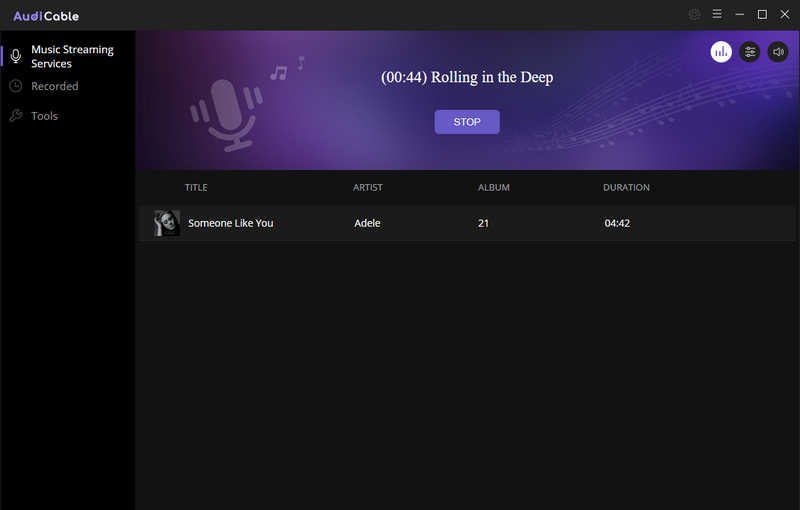 NoteBurner YouTube Music Converter is also one of the options for converting YouTube Music. It's designed to convert YouTube Music into various formats – MP3, AAC, WAV, FLAC, AIFF, and ALAC.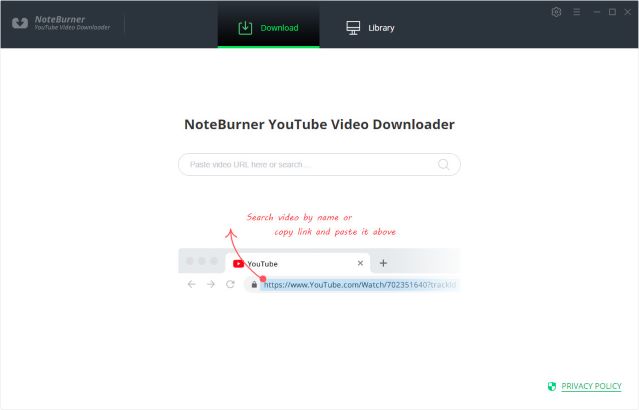 TunePat YouTube Music Converter is a professionally designed music downloader for downloading YouTube Music developed by TunePat. With the song title, album, artist, genre, artwork, and other information intact, TunePat YouTube Music Converter can batch convert YouTube Music songs to MP3, AAC, FLAC, ALAC, WAV, AIFF, and other audio formats at a speed of up to 10X faster than before. Additionally, it can arrange your music folders according to your preferred playlists and albums.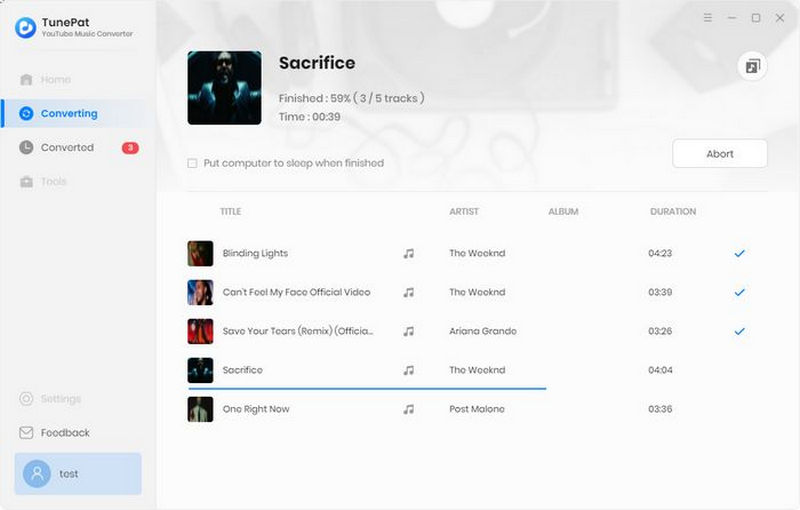 Sidify All-In-One is a very powerful all-in-one music downloader, which can also download YouTube Music. You can download both music in MP3 format and videos from YouTube Music.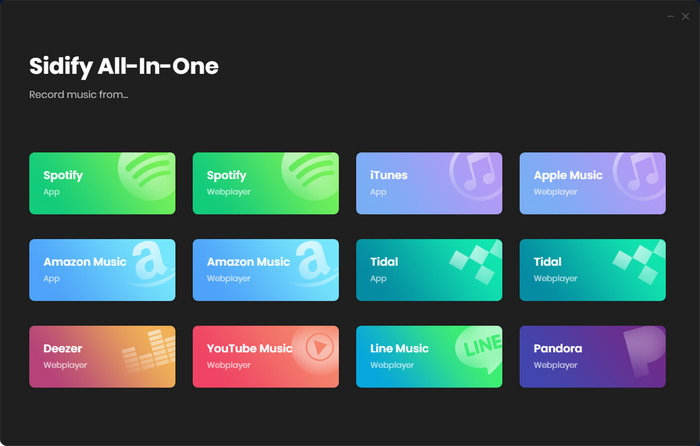 With the help of SnapDownloader, you can download videos from over 900 websites, including YouTube, for free and without any restrictions. SnapDownloader is mainly used for downloading videos, but it can also export audio from YouTube playlists and download it in MP3 format. Because of this, it's a great tool for music fans who want to listen to their favorite musicians whenever and wherever they want, offline.
Note: You can try SnapDownloader for free for only 48 hours and check out all the features.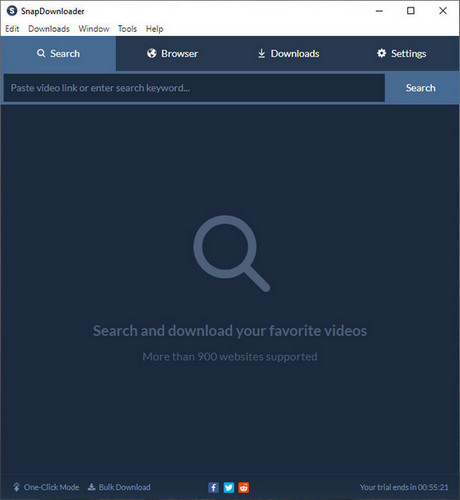 YouTube Video Downloader is a completely free YouTube downloader without any additional bundled programs. It supports users to download videos and music playlists from YouTube. But it should be noted that YouTube Video Downloader extracts music from YouTube videos. So before downloading YouTube Music playlists, you need to find the video URL that contains the music you need on YouTube.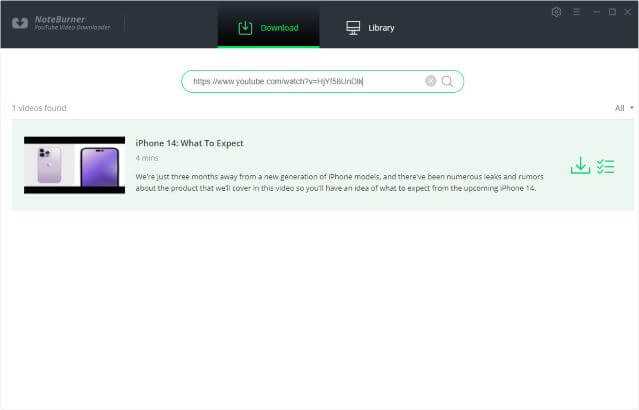 Part 2: Online YouTube Music Playlist Downloaders
In part 1, we introduced several popular desktop YouTube Music playlist downloaders, each of which can help you get your favorite playlist from YouTube Music to local quickly and efficiently. In this part, you will discover a few helpful and well-known online tools for downloading YouTube music playlists. Easily make your own YouTube Music playlist, even if you don't want to own a desktop program.
Y2Mate YouTube Downloader gives users a free way to download YouTube videos for offline viewing or other uses. To start the download process, simply type the YouTube video's URL into the program. Moreover, you have the option to convert your YouTube video to MP3 format using the online YouTube downloader.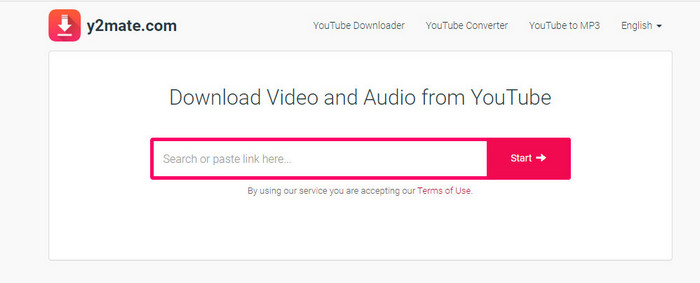 YTMP3 is an online platform that also allows users to freely make YouTube videos to MP3 files. You can download all of the MP3 content for free by searching for your music songs directly on it, in addition to pasting the YouTube video link to YTMP3. To sum up, YTMP3 is a great site for anyone wishing to download high-quality music collections.

When picking up a free online YouTube downloader, OnlyMP3 YouTube to MP3 Converter is one of the best choices you could try. With just one click, you can quickly and simply convert YouTube videos to MP3 music files using this robust online tool. This digital webpage is very effective and easy to use, making it perfect for people like music lovers or content creators who need to extract audio data from YouTube content.

With the help of the free internet resource Genyoutube, users can quickly download music or videos from websites like Youku, Facebook, Dailymotion, and YouTube. You should be able to easily convert and download YouTube videos in various formats and high quality by visiting Genyoutube.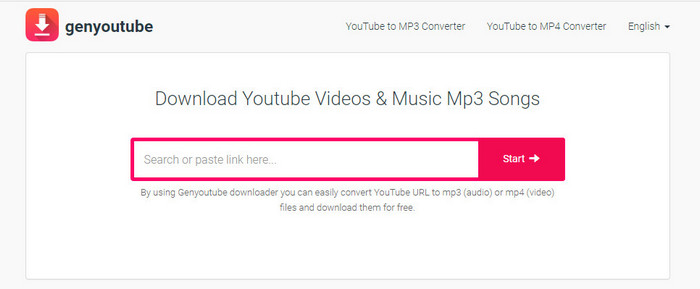 It has never been simpler to download and convert YouTube videos to high-quality MP3 audio files with the MP3 converter. Any device, including computers, tablets, and smartphones, can be used to access the online YouTube downloader and download any YouTube music track for free and offline listening.

When it comes to downloading YouTube music, SaveFrom has been leading the way. It's simple to download videos in MP3 and MP4 formats using this free YouTube download website. To solve it, you don't need to download any apps.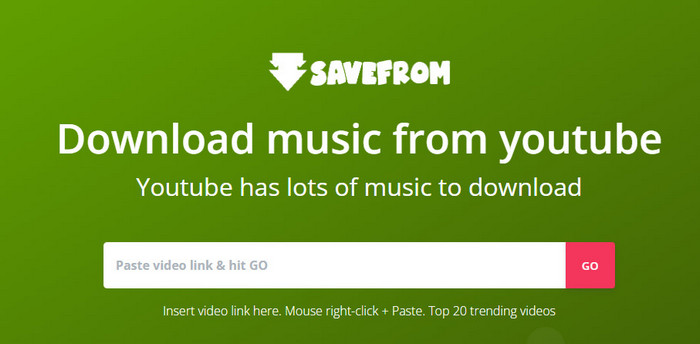 Summary
If you want a stable method to download YouTube Music offline, it's suggested to download a YouTube Music downloader app on your computer, like KeepMusic YouTube Video Downloader, AudiCable Audio Recorder, NoteBurner YouTube Music Converter, TunePat YouTube Music Converter and Sidify All-In-One. These software allow you to download music from YouTube Music in many formats.
If you only want to download a few songs from YouTube, you should try the later 7–15 free online YouTube music downloaders as they are more practical. You'll have to take some time searching Google for them because their websites are probably blocked.
The best YouTube Music Converter is KeepMusic YouTube Music Converter, which you should never pass up if you want your MP3 songs from YouTube to sound better and you need the official studio recordings. In addition to converting YouTube Music songs to royalty-free audio formats, this expert program might enable you to download your preferred music videos (MVs) in MP4 format with up to 4K quality from the YouTube Music streaming service.