Home > Guide > Download YouTube Music Without Premium
How to Download YouTube Music Without Premium
YouTube Music is a streaming app for listening to music from YouTube. It includes a library of songs, albums, and playlists, as well as personalized recommendations. There's no doubt that YouTube Music is a powerful new player in the streaming music space. With its vast catalog of songs, easy-to-use interface, and music video content, YouTube Music offers a compelling alternative to Spotify, Apple Music, and Amazon Music. However, there are some key areas where YouTube Music falls short. For example, you can't download and listen to YouTube Music offline without a premium subscription. There are a number of ways to enjoy YouTube Music offline without paying for a premium subscription. In this article, we will explore three ways you can do that.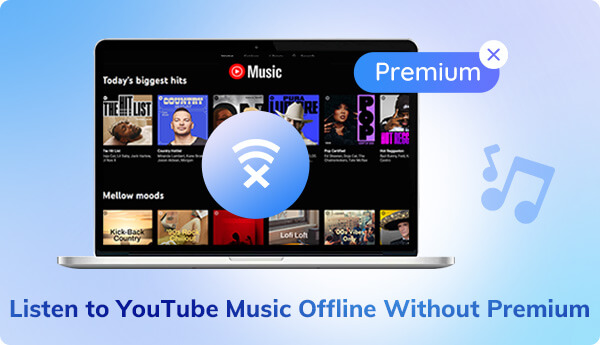 Part 1. Can I Download Songs from YouTube Music without a Premium Account?
YouTube Music is available as a free, ad-supported service, or as an ad-free premium subscription. Premium subscribers can download songs and albums for offline listening, and they also have access to exclusive features such as background play and audio quality settings. Downloading music for offline use in YouTube Music is a premium-only feature.
You can keep the downloaded YouTube music all the time before your subscription expires. Please note that if you cancel your premium membership, you will lose your remaining downloads at the end of your final billing period.
Part 2. Three Ways to Download YouTube Music for Offline Playback without Premium
To download music from YouTube without paying a premium, you can use a few different methods. One is to use a third-party program. KeepMusic YouTube Music Converter aims to get YouTube Music downloaded and save YouTube songs on the computer or phone and listen to the local on-device files without any premium at all, regardless of whether you're not connected to the internet or switch to another streaming service in the future. Another option is to use an audio recording program. The AudiCable Audio Recorder works to record the songs while you're streaming on YouTube Music, so you can listen to them later offline. And the third way is to use some online converters, such as YouTubeMP3.org or ListenToYouTube.com. These websites allow you to paste a link to the song you want to download, and they will convert it into an MP3 file that you can save to your computer.
Go ahead, we will go into detail on every method. And you can pick up the method based on your needs and preferences.
Part 3. Download YouTube Music to Listen Offline without Premium — KeepMusic YouTube Music Converter
This first method will work with the KeepMusic YouTube Music Converter, which lets you download songs, albums, or playlists from YouTube Music to your Windows and Mac computer for offline listening. It is worth noting that KeepMusic is available for YouTube Free and YouTube Premium subscribers. So if you now are not connected to a Premium plan, you can still get YouTube Music downloaded to diverse audio formats including MP3, AAC, WAV, FLAC, AIFF and ALAC, then play them offline in multiple ways.
KeepMusic works in a way to download the audio source from the YouTube Music library, allows you to customize the YouTube Music parameters, including output format, output quality, output path, output organize way, and more. YouTube Music, on the other hand, can be downloaded at a 10x faster rate. So this will be helpful if you get a batch of songs to download offline. Most importantly, YouTube Music will be saved as local audio files on the computer. Surely, this enables you to listen to YouTube Music offline freely. You can also transfer the YouTube music downloads to iTunes, or to Spotify and more without restriction.
Step 1 Download and install KeepMusic YouTube Music Converter
Launch the KeepMusic YouTube Music Converter when it comes with the Open YouTube Music Web Player tip on the front page. Click it and follow the SIGN IN instruction to fill it in with your YouTube Music account information. Both YouTube Free and YouTube Premium accounts are available on KeepMusic.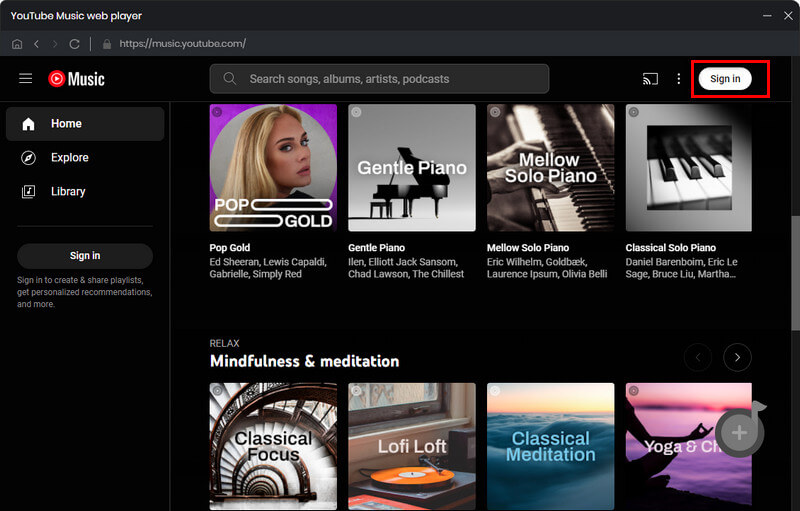 Step 2Configure the YouTube Music Output Format
Locate the Settings by clicking the gear icon at the top right corner. Here you can choose an output format which your YouTube Music will finally turn into. You can also customize other setting parameters including the output sound quality, output folder, output file name, and the output organized method. If it set all up, close the window to apply the changes.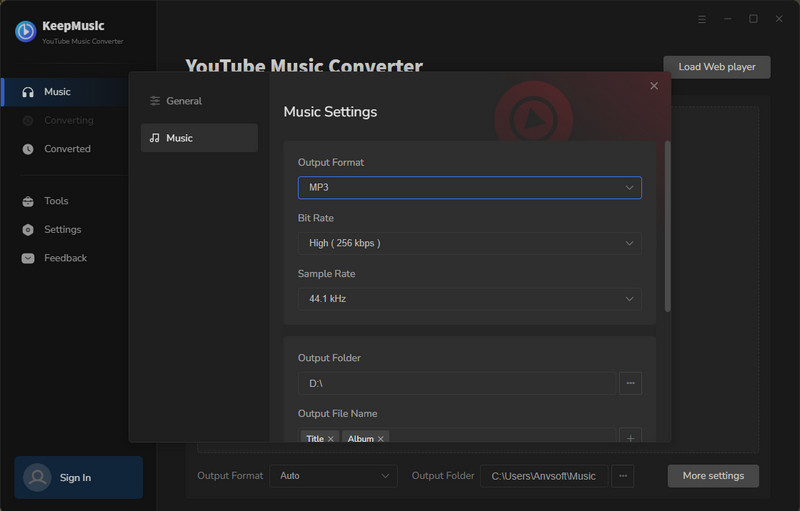 Step 3 Start to download YouTube Music
Now, browse into any YouTube Music playlist and click the Add to list button at the right bottom corner to put the playlist song onto the conversion panel. Individually or wholly choose the songs and hit the Convert Now to start the YouTube Music downloading process.
If you tap the Save to list after the song selection, songs will be put on the task list in the conversion queue. You then turn back to the music library to continue adding songs to convert. Finally, open the task list, which looks like a notebook icon in the top right corner, and you can check all the songs that you have selected. By tapping the Convert button to perform the conversion mission.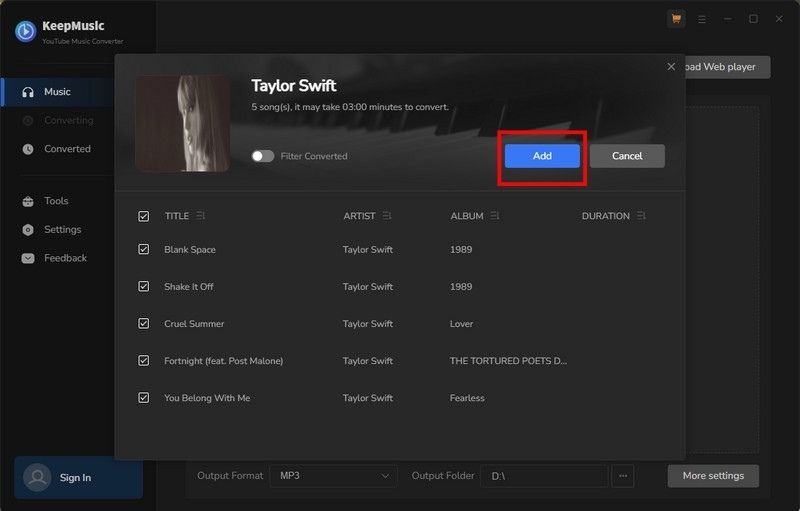 Step 4 Check out YouTube Music downloads on your local computer
KeepMusic will convert the music at a rate that is 10 times faster than the playing speed. Also, here you can set it to open the output folder after converting and just leave the program alone until the process is finished.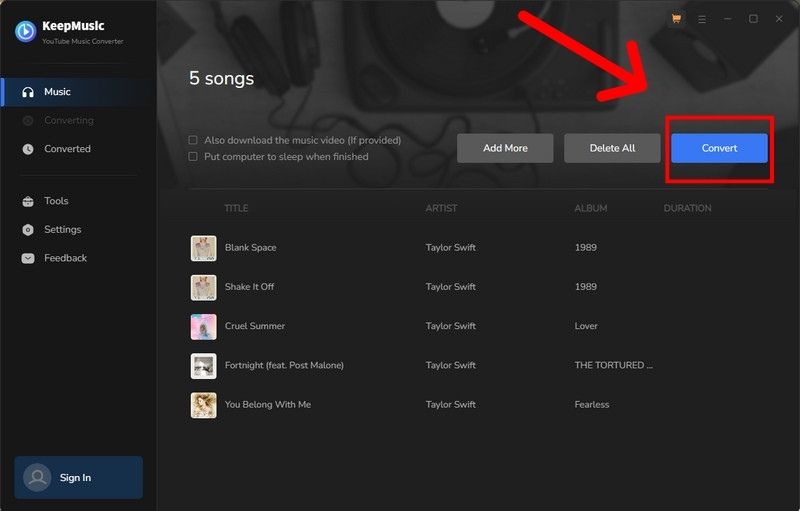 To find the downloaded YouTube Music, you can go to the path that you set up for the output folder. Or by tapping the clock icon to view all your downloading history. (Refer to the figure below.) And if you tap the folder icon after the song, you can reach out to the files in the local path. All the downloaded YouTube songs are in a specific format as you set up before.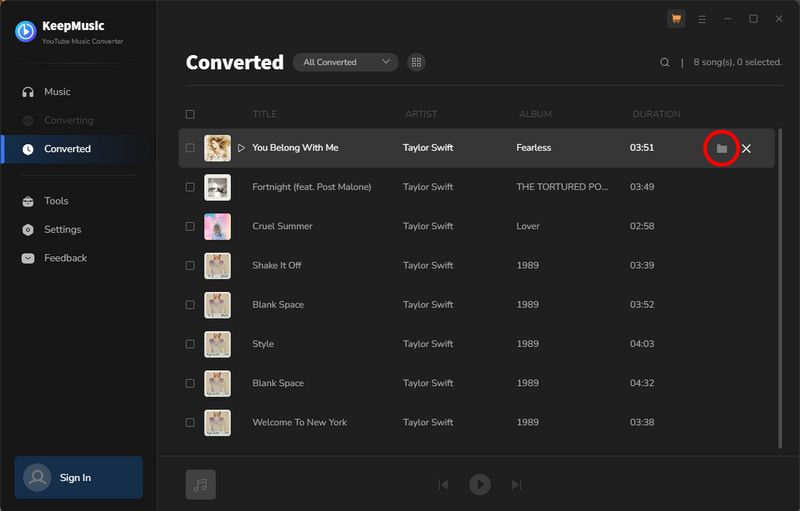 ---
Part 4. Record YouTube Music without Premium —— AudiCable Audio Recorder
Different from the downloading mode, you can use an audio recording program to record the songs while you are listening to YouTube Music. AudiCable Audio Recorder allows you to record the audio from YouTube Music platform while it is playing. You can then save the YouTube Music as an MP3 file. Once you have recorded the music, you can listen to it offline without any problems. This is a great way to listen to YouTube music without paying for YouTube Premium, and it's also a great way to build up a personal collection of your favorite songs that you can listen to anytime, anywhere.
Step 1 Download and run AudiCable Audio Recorder on your computer, then start this program. Then find the YouTube Music platform which is displayed on the homepage.
Step 2 Click YouTube source to open the music library. Then log in with your YouTube Music account. YouTube for Free account is accepted here.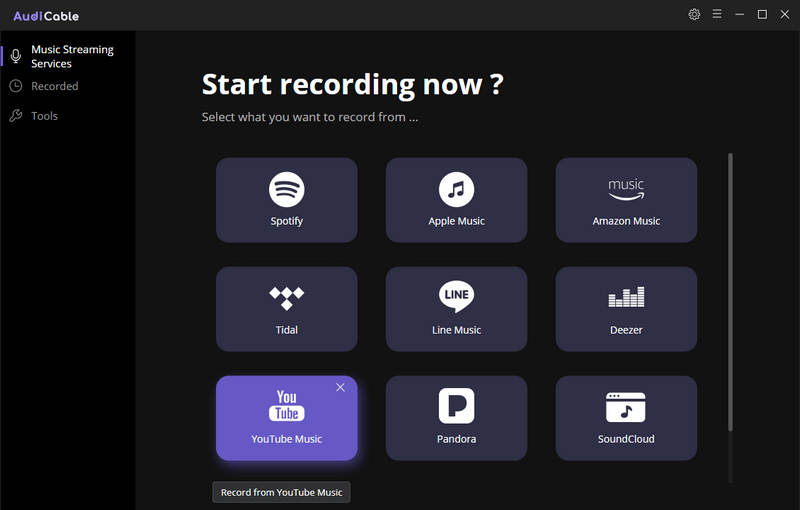 Step 3 Move to the settings before starting to record songs. Click the Settings button in the upper right corner of AudiCable and adjust the output format, sound quality, and storage path according to our needs.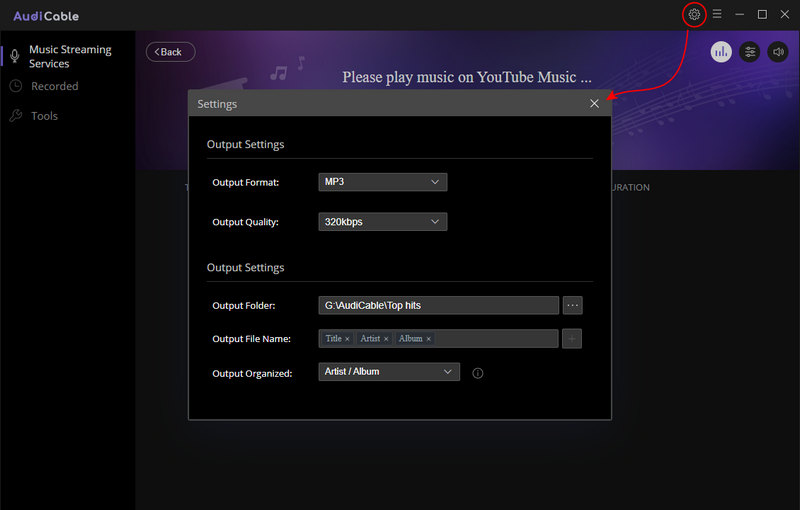 Step 4 Now, search out the YouTube Music that you would like to record for offline playback. Select the songs and start playing them in sequence. At the same time, the AudiCable recorder will be initiated. It will start recording songs and save the recorded YouTube songs onto the computer.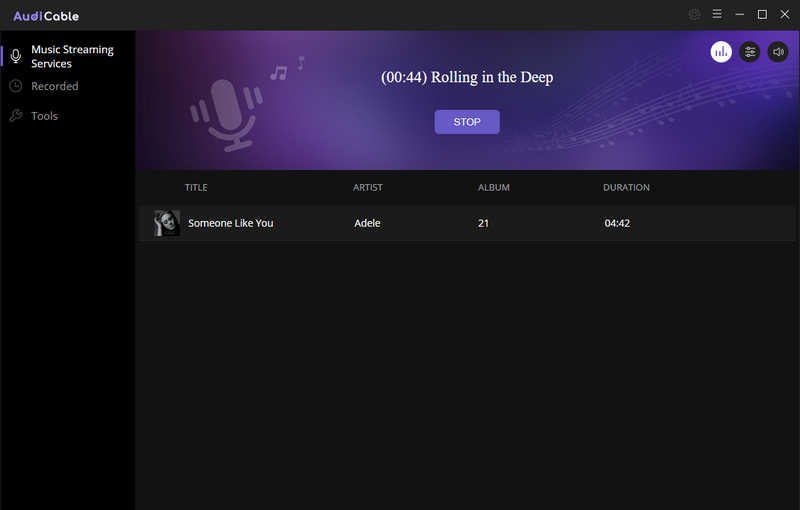 Step 5 When all the selected songs play to the end and the process is finished. You can go to the output folder to check the recorded YouTube songs. You are able to enjoy the free playback of YouTube Music songs without limitation.

But there are obviously some downsides to it. Recording programs or apps only record songs when you let songs play, so you are limited at a 1X speed. And the recorded sound quality of the recording may not be as high as the original song. You may not be able to record certain types of music due to copyright restrictions. Well, it is still a great way to create and play your YouTube Music offline without premium for later.
---
Part 5. Export YouTube Music without Premium —— Free Music Sites
In the absence of the premium membership, you can still download YouTube Music offline with some online converter websites like ListenToYouTube.com and YouTubeMP3.org. These free music websites allow you to paste a link to the song you want to download, and will convert it into an MP3 file that you can save to your computer. Here we will take YouTubeMP3.org. as an example and show you how to work out the YouTube Music downloading without Premium.
Step 1 Google 'YTMP3' and enter the online music converter. MP3 is by default set as the output format. The MP4 format is available when you are about to download YouTube videos.
Step 2 Follow the on-screen tips to search for the key words by song title, artist, album or Youtube URL in the search box. And click the 'Convert' button when it will come out a list of search results below the search box. Click the 'Download' button near the songs you would like to download.
Step 3 Here again comes an option to 'Download mp3', click it. Not a while, it will pop up the computer window to store the downloaded audio. So you just save it to your computer and wait for the download to complete itself.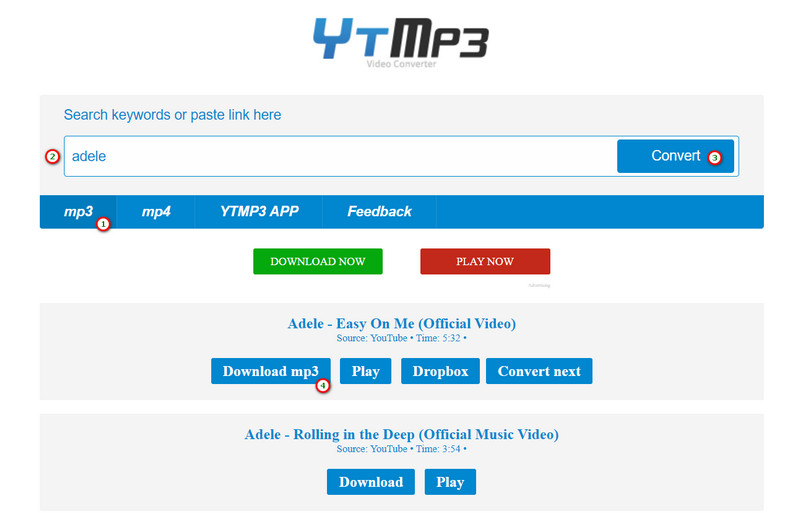 And there are also some drawbacks to the online converter method. First, these websites are often overloaded with ads, which can be intrusive and frustrating. Second, the quality of the MP3 files is often lower than the original audio on YouTube Music, due to the lossy compression that is used. Third, some converters may be flagged as malicious by anti-virus software, so it is important to be cautious when using them. Finally, Youtube Music offers a wide range of exclusive content that you can't find on other platforms. This includes live performances, remixes, and cover songs from your favorite artists. As a result, if you're going this way, you won't be able to download these content as expected.
---
Conclusion
In this article, we mainly list three workable methods to download and listen to YouTube Music for offline playback without a premium account. KeepMusic YouTube Music Converter works faster or more accurately than others in regard to output file types, quality and speed. AudiCable Audio Recorder is available for not only YouTube Music, but also multiple streaming services. And the online converter website will be a nice option if you refuse to download programs or apps onto your device. It may take you some time to evaluate all of your methods before making a decision. However, I have found that the KeepMusic YouTube Music Converter has many features that make this software unbeatable!
Note: The free trial version of the KeepMusic YouTube Converter and AudiCable Audio Recorder enables you to convert the first minute of each song and convert 3 music files at a time. You can unlock the limitation by purchasing the full version.