Home > Guide > Share YouTube Music with Friends or Family
How to Share YouTube Music with Friends or Family
Do you love discovering and listening to new music? Nowadays, no shortage of music streaming services allows you to do just that. But have you ever wanted to share the musical gems that you find with your friends or family easily? Luckily, YouTube is a great platform for sharing a wealth of different types of content–including audio–with others easily. In this article, we will explain how YouTube Music can help take your online music-sharing experience with friends and family up several notches!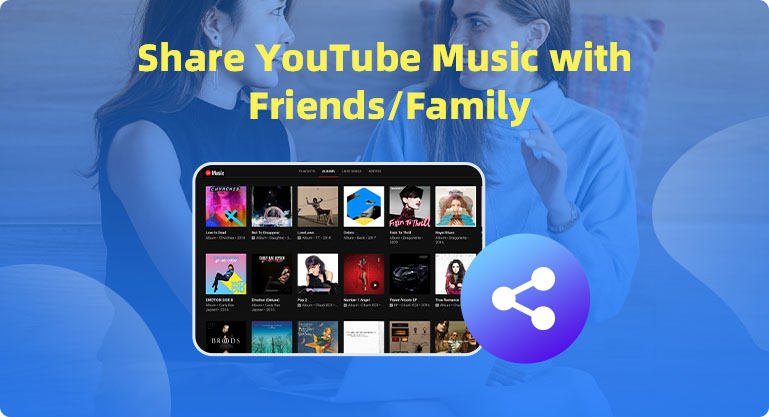 Part 1: Share YouTube Music with Links (Free & Premium Users)
YouTube Music is here to help you share the gift of sound with your beloved family and friends. You can easily create a link that grants access to playlists, so they don't have to miss out on any special melodies or unique tunes. Keep in mind - if there are private videos included, invite them first before sending off the playlist! Let's get started by following these simple steps for sharing music from YouTube Music Apps!
Step 1 Open the YouTube Music app on your mobile device, or go to music.youtube.com on a computer.
Step 2 Choose the playlist you want to share with your friends and family.
Step 3 Click the tree-dot icon next to the playlist.
Step 4 From here, you can share the playlist across social networks, embed the playlist, or email the playlist.
Tips: If you're viewing a video made for kids, an artist detail page, or a musical track - then the options in the menu will be a little different. Adding this content to playlists and favorite songs is unfortunately not possible. Of course, sharing is also not allowed.
Playlists are the easiest way to share great songs with your family. This method doesn't require you to have a YouTube Music premium account. However, recipients only have access when they're online - a challenging hurdle if you've got a lengthy list!
Part 2: Share YouTube Music with Family Plan (Premium Users)
If you need to access YouTube Music from multiple accounts at the same time. Don't worry, YouTube Music offers families of up to 6 members the chance to each have their personalized subscription at an affordable cost. For just $16.99/month, everyone in your family can enjoy music without interruption from ads - and you even get extra features like offline playback included free with YouTube Premium for only $10.99/month! What's more, all of this comes together at an unbeatable price of just $16.99/month for six profiles with the Youtube Premium Family Plan.
How the Family plan works
1. The YouTube Family Plan allows you to share your paid YouTube membership with up to 5 family members who live in the same household (residential address).
2. As a family member, you can create a Google group to unite your loved ones and share amazing services like YouTube Premium, Music Premium, or TV - giving them access to exciting content.
3. Sharing your YouTube Premium, YouTube Music Premium, or YouTube TV membership with a family group also lets you share other Google services. Learn more about family groups on Google.
Note: Family Plan is currently not available in Belarus, Iceland, Israel, Slovenia, South Korea, or Venezuela.
With a family plan, you can easily share access to your favorite playlists with loved ones. From high-quality songs and albums available for offline listening during the subscription period, you and your family will be able to enjoy each other's favorites. Therefore, you can only share high-quality YouTube Music songs/playlists with family, not with friends.
Part 3: Share YouTube Music Without limits (Free & Premium Users) - Recommended
If you have a YouTube Premium Family account, you can easily download songs from YouTube Music and share them with your family. However, premium users will not be able to enjoy downloading songs after the subscription expires. There is an option that can break this limitation for you - KeepMusic YouTube Music Converter. This effective download tool converts any song from YouTube music to MP3/AAC/WAV/FLAC ALAC or AIFF format while preserving its sound quality as well as ID3 tags intact at 10X speed without installing the Youtube app or having a premium account.
After downloading YouTube Music, you can not only share it with your family or friends. It can also be transferred to an MP3 player, USB Drive, SD card, or mobile phone for offline playback.
How does it work?
Step 1 Install and run the KeepMusic on your computer
Step 2Click the "SIGN IN" button to log in with your account.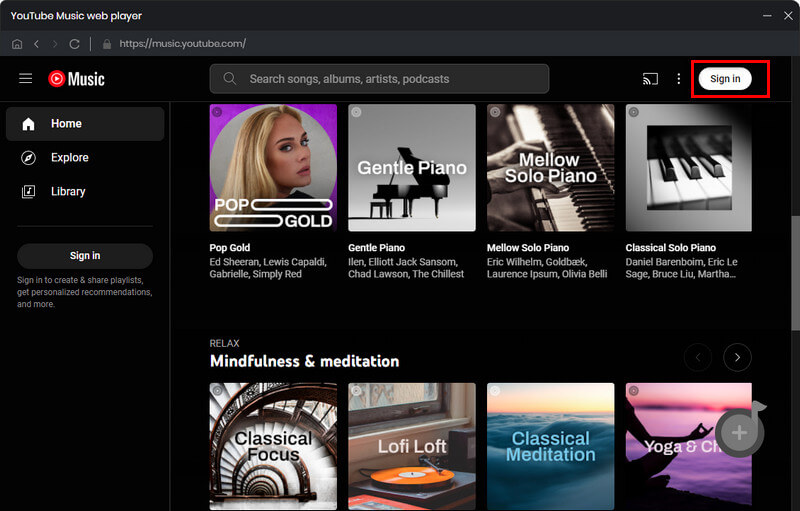 Step 3 Then tap the "Settings" button to customize the Output Format, Bit Rate (up to 320kbps), Sample Rate, etc.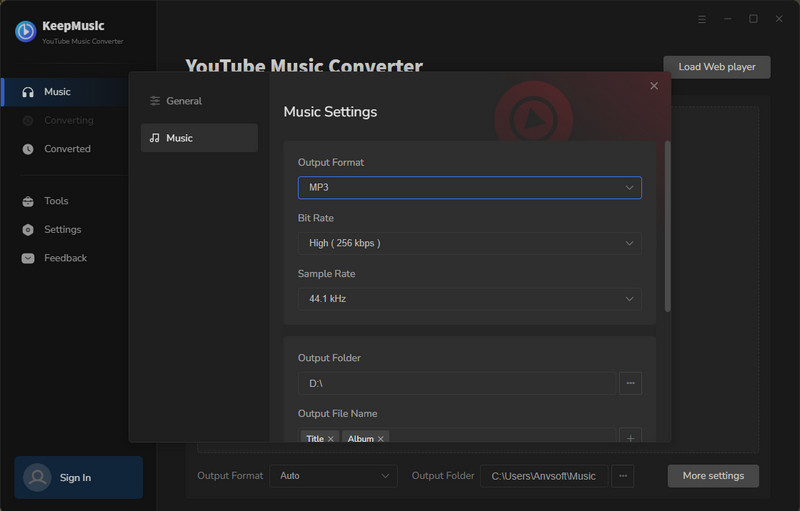 The program opens the "Also download the music video (If provided)" option by default. If the song that you want to download includes a music video, then the video will be downloaded together.
Step 4 Now, you can open a playlist and click the "Add" button to choose the songs you want to download. Then click the "Convert" button.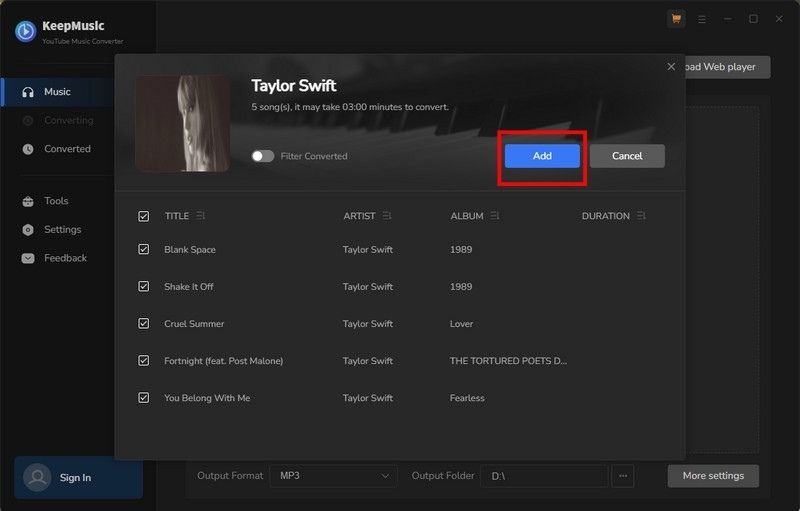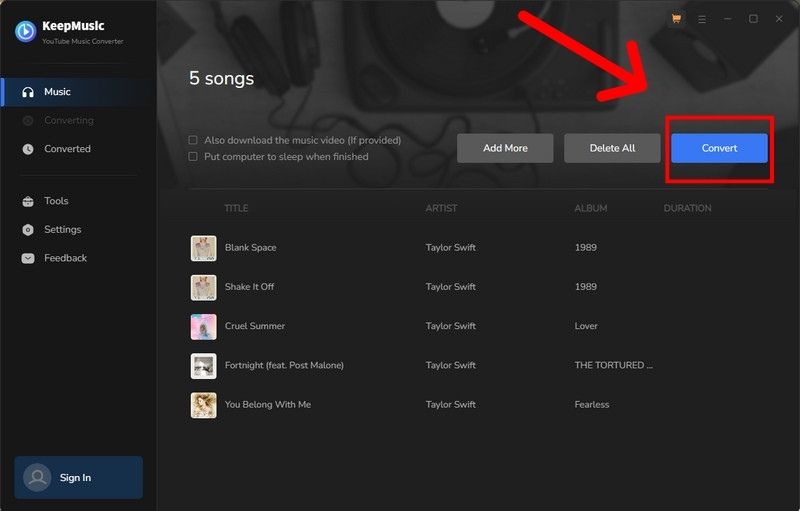 Step 5 After the conversion process has been finished, you can check the downloaded songs by clicking the "Converted" button or the folder icon.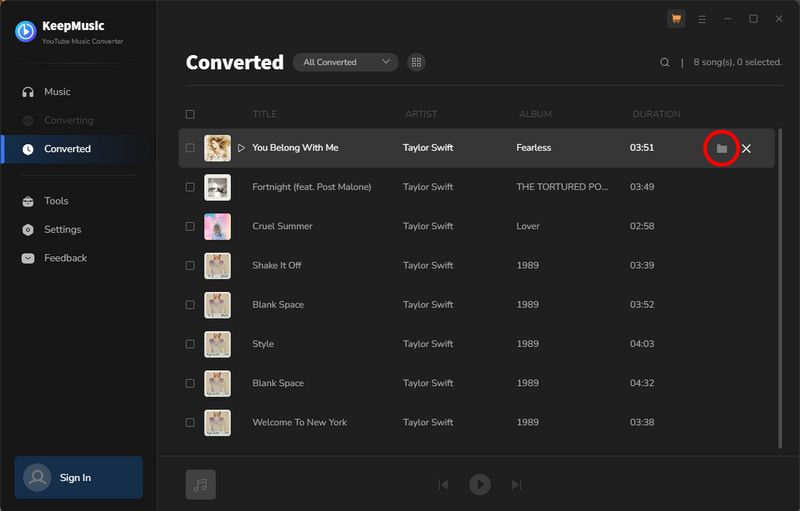 Now, you can share the downloaded songs with your friends and family.
Notes: The free trial version of the KeepMusic YouTube Music Converter enables you to convert the first minute of each song. You can unlock the limitations by purchasing the full version.
Summary
All in all, YouTube music offers an exciting and expansive way to discover and share music with friends or family. It is a great way to bridge physical distances while still staying connected and entertained. With a few simple steps, YouTube users can easily create playlists so that they enjoy themselves with their family and friends. With KeepMusic YouTube Music Converter, sharing YouTube music with friends or family has never been easier or more fun—so why not give it a try? As a YouTube music lover, you will surely experience the joy of sharing your favorite tunes with the people closest to you!