Home > Guide > Download YouTube Music to Android Phone without Premium
How to Download YouTube Music to Android Phone without Premium
YouTube has been the world's most popular music streaming platform for years now. And while there are many ways to offline access YouTube Music on your Android phone, downloading it for offline playback is still a bit of a hassle. YouTube Music offers a Premium subscription that allows users to download songs and albums for offline playback. However, there is a way to download YouTube Music to your Android phone without paying for a Premium subscription. In this article, we will show you how to do just that! Keep reading to find out how!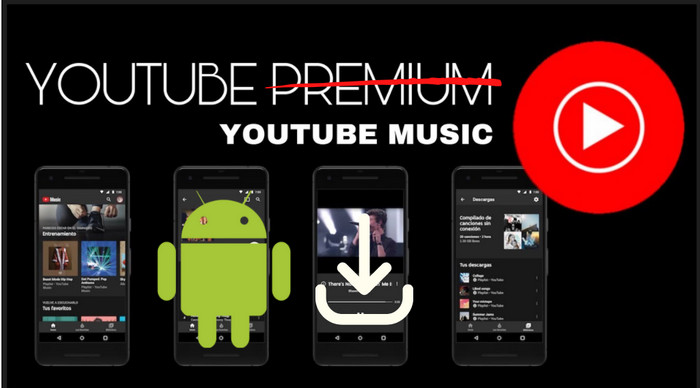 Part 1. Download YouTube Music to Android Phones with Premium
YouTube Music offers a Premium membership that allows users to download songs and videos for offline listening. This feature is convenient for when you're on the go and don't have access to an internet connection. However, it's important to note that you'll need to reconnect to the internet at least once every 30 days to maintain your downloads. This ensures that you're still an active member and allows YouTube Music to keep your download library up-to-date. To download YouTube Music offline on your Android phone, you can:
1. Simply open the app and navigate to the song that you want to download.
2. Then, tap the 3 dots after the song to open the menu, and click the download icon. You can also click the download arrow on the album or playlist details page.
3. Once the download is complete, you can access your offline content by tapping the "Offline" tab at the bottom of the screen.
Part 2. Download YouTube Music to Android Phone without Premium
What if you have no YouTube Premium or your YouTube Premium just expired? Never mind. Turn back to a YouTube Music Free user, you can still download YouTube Music as you want. But this time, you need to team up with KeepMusic YouTube Music Converter to make this happen. This great tool allows you to download YouTube Music on your Android as a YouTube Free user. That means, you don't need to pay for a Premium membership but you can still get music downloaded as you wish.
KeepMusic YouTube Music Converter will first get YouTube Music downloaded to the computer's local storage. After that, you can simply transfer the downloaded YouTube Music to any device in your favor including your Android phone. From then on, you can play YouTube Music without a subscription bundled at all.
Steps to Download YouTube Music to Android Phone without Premium
Step 1 Run KeepMusic YouTube Music Converter
Click the button provided above to get download and install the latest version of KeepMusic YouTube Music Converter to your computer. KeepMusic has Windows and Mac versions available. Do pick up the version that is compatible with your computer operating system to start.
Then click on SIGN IN to log in with your YouTube Free account to access the web version of YouTube Music content.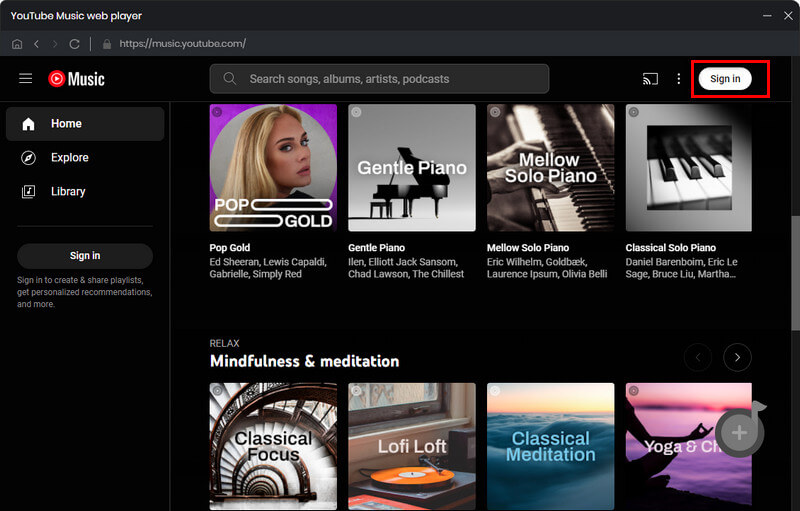 Step 2 Set up YouTube Music Output Format to MP3
Navigate to the KeepMusic Settings menu in the left side. Set up the output format to MP3 which is surely accepted by Android phones, output sound quality, output folder, output file name, and the output organized method.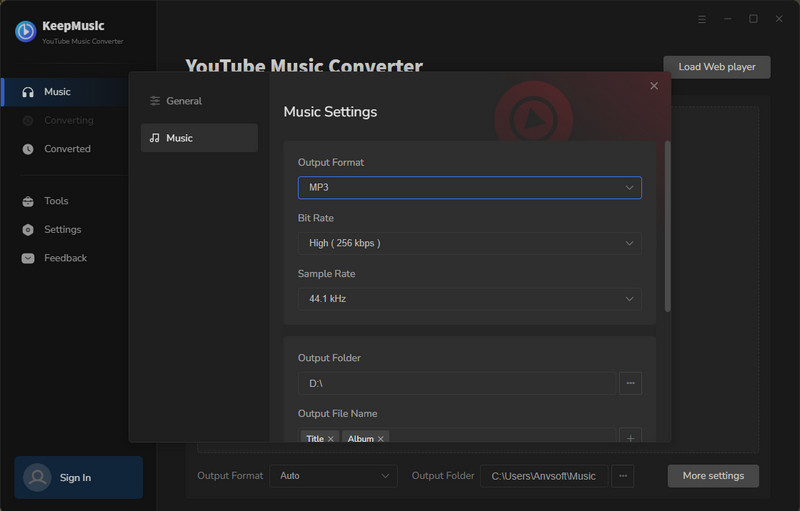 Step 3 Add YouTube Music and Convert
Open any YouTube Music playlist that you want to download offline. And click the Add button to add the whole playlist tracks to the conversion panel. Choose the songs in batch and tap Convert to start the YouTube Music downloading process.
Tap the Convert button to perform the conversion mission.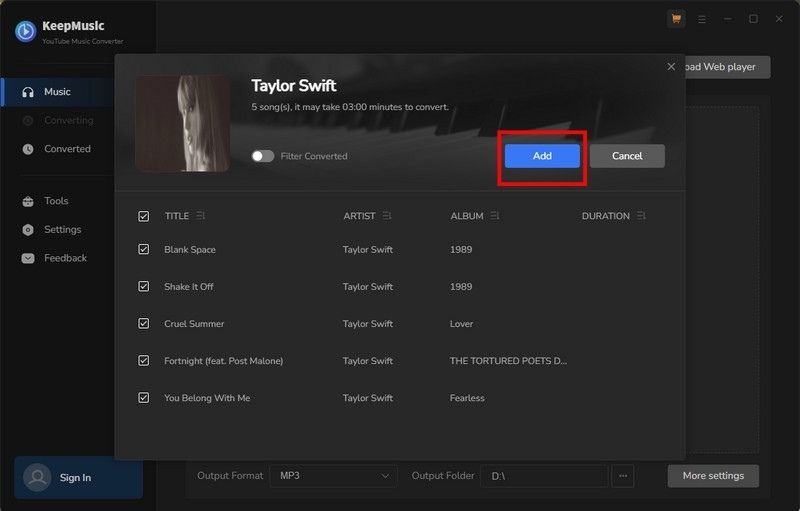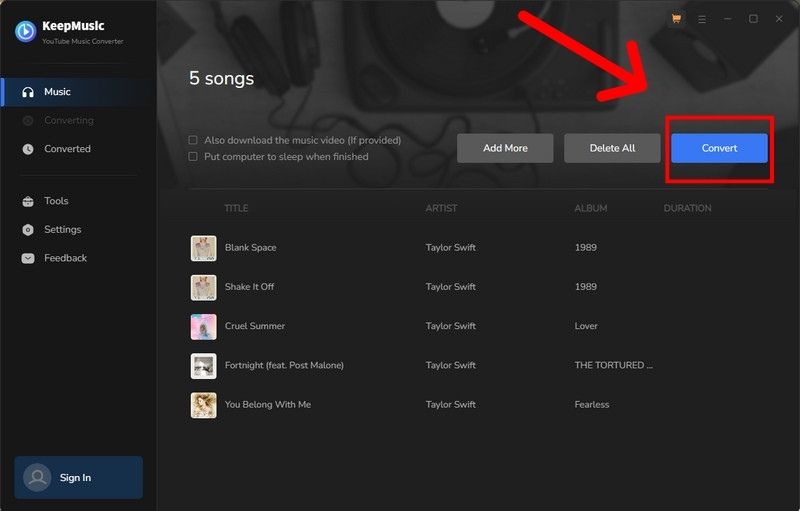 Step 4Find All YouTube Music Downloads on Computer
KeepMusic will convert the music at a rate that is 10 times faster than the playing speed. Also, here you can set it to open the output folder after converting and just leave the program alone until the process is finished.
To find the downloaded YouTube Music, you can go to the path that you set up for the output folder. Or by tapping the Converted (Refer to the figure below.) And tap the folder icon after the song, and you can reach out to the files in the local path. All the downloaded YouTube songs are in MP3 formats as you set up before.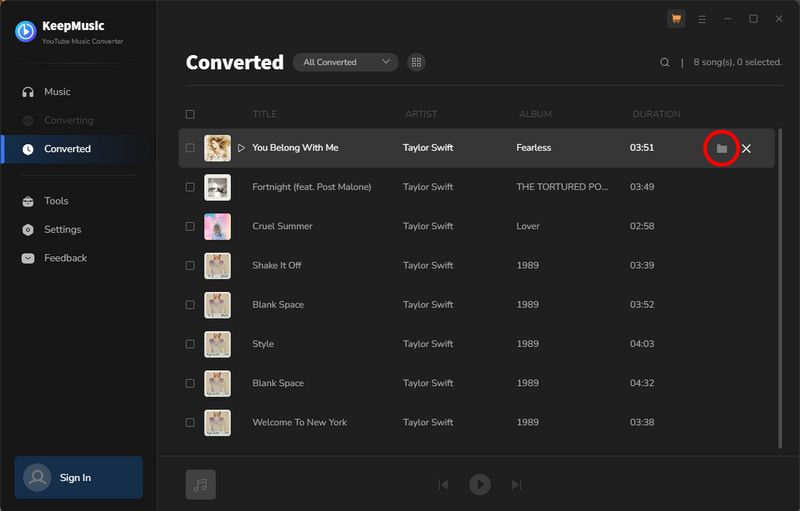 Step 5 Transfer Downloaded YouTube Music from PC to Android Phone
Open Syncios Mobile Manager, which allows you to manage the mobile media files on the computer including transfer files between PC and Android phones, then connect your Android phone to Syncios with a USB cable.
Next, choose the Music tab on the above menu. Click on Add button to import the downloaded YouTube Music on the PC to your connected Android phones with ease.
When the synchronization is done, you can find YouTube Music on your Android phone. You can listen to them whenever and wherever you go.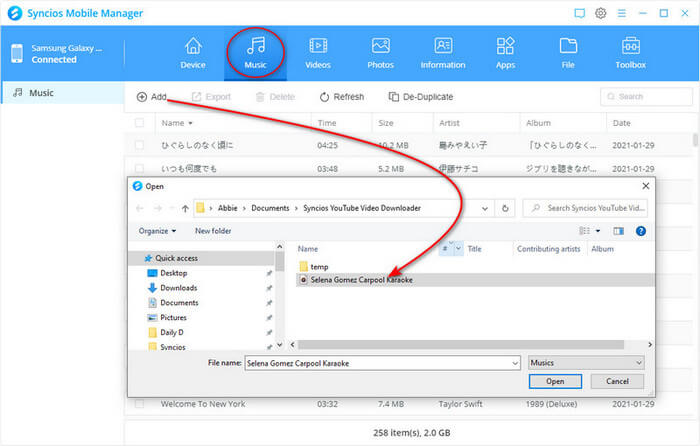 Extended: Set YouTube Music as Android Phone Ringtone
After you imported YouTube Music to your Android phone, you can apply them as your phone ringtones as well as an alarm if necessary. Or if you want to customize the songs as a ringtone before you sent them to your Android phone, you can take advantage of the Ringtone Maker feature in Syncios. And this is how you can do it.
Step 1. As long as you connect your Android phone to Syncios, go to the Toolbox tab where you can see a Ringtone Maker feature, and tap into it.
Step 2. Then click the Select from computer feature to add the previously downloaded YouTube Music to the maker.
Step 3. Go ahead, you can customize the start and the end of the ringtone.
Step 4. Next, click on Import to device to import the customized ringtone to the connected Android phone.
Last but not least, when you turn back to the ringtone settings on your Android phone, you can find the customized ringtone as option for your reference.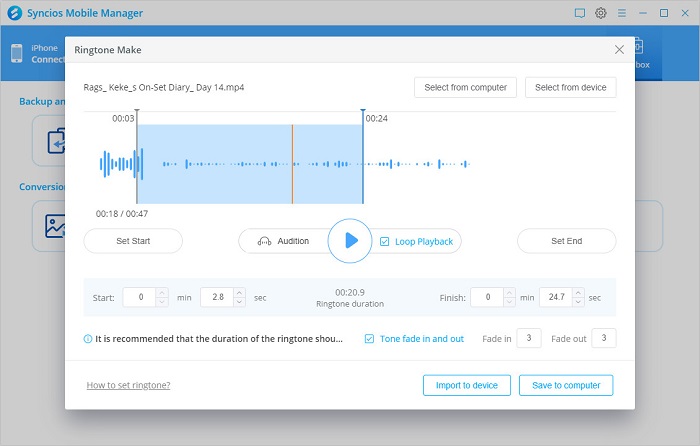 Summary: Whether you want to download YouTube music to your Android phone for free or with a premium subscription, we've got you covered. We've also shown you how to set YouTube Music as your default ringtone on your Android phone. We hope you found this guide helpful and that you enjoy using YouTube Music on your Android phone. Start enjoying your favorite tunes on the go today!
Notes: The free trial version of the KeepMusic YouTube Music Converter enables you to convert the first minute of each song. You can unlock the limitations by purchasing the full version.